River Information 2013
Information on river conditions, catches etc.
What's New:
Letting Updates
Lets now going up for 2013 season.
Click on the above link to download the GS Anglers Declaration Form
Current News
Turriff Bridge Webcam

The Webcam located at the Turriff bridge is now live. To view either click here ,or click the 'Turriff Bridge' icon in the Webcam section.
Welcome to 2013

Salmon and Sea-trout season- 11 February 2013 to 31 October inclusive.
Brown trout season 15 March to 6 October Inclusive.

CASTING INSTRUCTION

We can now offer tuition to anglers on a one to one or group basis from a fully qualified instructor.

Learn to Spey cast, cover that spot where fish are -but is always just out of reach or just brush up on your skills.
We can arrange it for you or if your beat gillie has no objections it can be done on your beat at a time to suit you.
Please ring Frank on 01888 562428 to book a slot- it will improve your "luck"
We can also provide shooting instruction for both rifle and shotgun- again from a fully qualified instructor- again contact us if interested.
We have some interesting developments in this area so keep looking back for the exciting news -hopefully around March/April time.
Follow Us On
Update 4 November 2013

Saturday 19 October saw levels rising fairly quickly and the dirt came in around lunch time and many anglers went home early. Marnoch Lodge saw 19 for the week and Ferry Cottage at Upper Netherdale saw 22 for the week, Dunlugas reported over 30 whilst Avochie managed 4 to 9lb as the fish seemed to be stuck in the middle river. As the river dropped to 1.5 feet above normal on Sunday it opened at just 7 inches above on Monday. Turriff Angling Association had a few fish and a 19lb and 13 lb fish came off Castle Water Huntly. The Wrack managed a few including a 13lb clean fish but overall the anglers were disappointed with numbers caught. For the final few days levels dropped away to around 4 or 5 inches below normal and again the middle river picked away and Mountblairy saw 18 for the 4 days. Many local anglers managed to break their duck for the season and/or catch their first Deveron fish of the season so it was not all bad news.
Just to rub salt in the wound of a low water season the heavens opened on November 2nd and Sunday November 3 saw the river running at around 8 foot above normal.

We will be looking at next years bookings from the end of November. We will have a few slots available right through the year and remember we have a 5 day tag at the end of next season and should have availability on Mountblairy and Upper Netherdale and Carnousie. We will also have plenty rods in the spring time and accommodation is cheap at that time so well worth a visit. If you are interested in anything drop us an e-mail and we will try our best to sort you something out.
We are closed until 25 November but have plenty of cartridges in stock and although some short term difficulty in getting Gamebore Black Gold an order will be in hopefully by mid December. American manufactured ammunition continues to problematic in supply but Winchester stocks are good. Air rifles continue to sell well and we have some Junior models in stock for Christmas.

For 2014 there are some new products from Shakespeare – oracle rods, new rods from Vision and a selection of new lines from Rio- afs floaters and short Spey lines that will go well on the Deveron.
Update 18 October 2013

A great week for many. Catches continued on Monday where last Saturday left off with some beats in double figures for the day. Tuesday slowed a little as we had another rise in levels to just under one foot. This moved a few fish again and a few smaller fish of 5-8lb were caught with sea-lice on them. There have been plenty of fish around 15-17 lb caught this week – again the odd one has had sea-lice on it and more than our fair share of fish over 20lb as well. The one shown is 26-27lb and a fish has just been reported off the Turriff Angling Association which is around the same size- both these on fly and the Angling Association fish on a 10 foot single handed rod. Levels are back down below normal by a few inches but the fish keep coming. Forecast is for heavy rain tonight and again Sat night so the last full week next week should be fantastic and we still have the odd day rod available until the season end.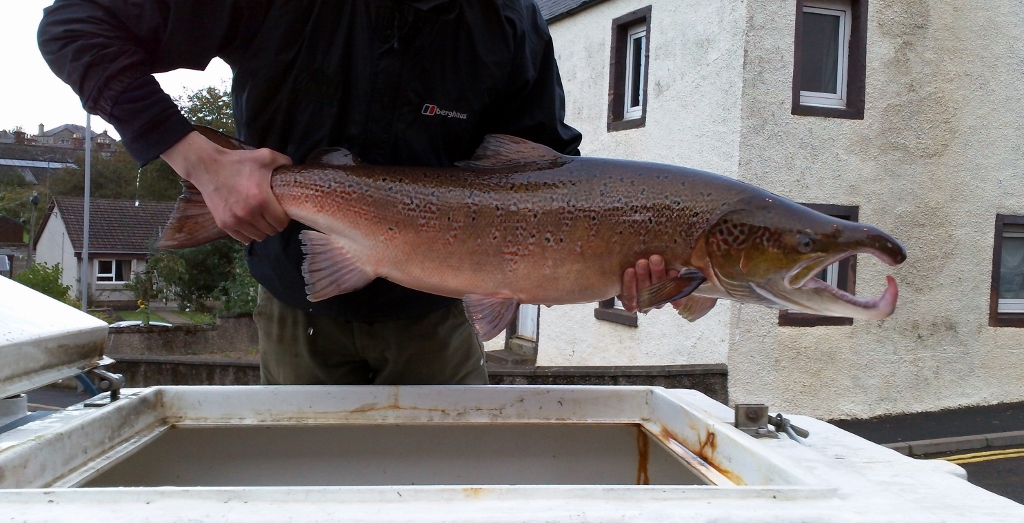 Update 14 October 2013
The week ending September 28 was mainly on the last report but a middle beat below Turriff reported a return of 18 for the week which stood out from the crowd.

Week of Monday 30 Sept. continued with low levels and very few fish caught. One angler had fish of 7 and two at 12 lb above Turriff and the Judge Party at Kinnairdy landed 4 and lost 5 for their week.

The poor returns continued into week 7 October with temperatures hitting 21 degrees on the Tuesday. In contrast Wednesday opened with Northerly winds and temperatures of 7 degrees. Wednesday pm and evening saw heavy showers and the river was on the rise on Thursday am. This resulted in a rise of water reaching one foot 7 on the gauges- a rise of 2 foot or perhaps just over. The Sepa gauge at Muiresk certainly did not show the correct rise in water. Friday saw the river very black and dirty – but large numbers of fish were seen running but they ignored anglers offerings for the main part. Turriff blanked and Marnoch landed two. Others one or two. Saturday saw levels way down below normal again . Turriff landed two at 10lb and 13 lb. There were also reports of a middle beat landing eleven on fly on Saturday morning. The river continues to fall and is very peaty. Hopefully now it has settled down any fresh fish will now enter the system and give us some sport in the next few weeks.

Just a reminder that we are closed from 5 November until 25 November- so if you require ammunition or cartridges stock up early.
Update 27 September 2013
Last week has turned out to be one of the better weeks of the season. Many beats returned catches in low double figures. These were mainly grilse- all clean fish and any salmon were pretty coloured.
Frosts early in the week cooled the river temperature and this helped. Grilse were pushing in off the tide and up river in reasonable numbers and by the end of the week they were well spread out in the river all the way to Huntly. A 24lb fish came off Inverichnie on Tuesday and a 26lb fish was reported off Forglen on Friday.

This week normal service has been resumed- no catches. Many beats are on zero and others just on 3 for the week up until yesterday. Another frost yesterday morning may help the last couple of days .
Fish are being seen pushing through off the tide and many large fish among them. A 10lb sea-liced fish was taken at Mountblairy on Wednesday. Beats further up are seeing fish go through half out of the water as they run over the shallows. The best time this week has been from 5-8pm- the last few hours of light.

Again we have been dry- missed the rain forecast in the week and there is no sign of any rain to come. At least the fish are waiting no longer and pushing in but they are very hard to tempt.
Cooler temperatures are forecast with cloud cover for the next few days. Hopefully this will improve catches.
Update 16 September 2013
Another two weeks of- hell. Week of 1 September saw temperatures of 26 degrees c and the sun shining brightly. Levels were around minus eight inches although on Saturday we saw a small rise of one inch. There was very little to report. Most beats managed one fish , some managed 5 but mainly grilse. With a freshet of water on Saturday , Monday 7 September saw a few fish caught as temperatures were much cooler and river temperature fell to around 10 degrees c . Middle to lower beats managed up to around 7 or 8 fish for the week and clean fish were seen jumping around as a few pushed in off the tides in the low water. The big storm predicted for the weekend of 15 September failed to arrive and we got neither wind or water in the predicted amounts. Indeed levels on Monday 16 September only were up 1.5 inches to around six below summer level. At least it is now cooler with a frost in the catchment this morning and some fish have been landed up to lunchtime.
Forecast- if we dare believe it is for dry weather this week and early next- not what we require.

An advanced heads up for those of you local. For the first time in 12 years we will closed for more than one week in November. We will be closed from the 6th and reopen on Monday 25 November.
So if you need cartridges , ammunition or engraving try and organise it early.
Update 30 August 2013
The last few weeks have been more of the same unfortunately. Levels ran from normal to several inches below and beats posted 0-5 fish at best for the week ending 17 August. Week of 19 August saw a small flurry of activity on the Monday with middle beats around Turriff reporting several grilse and Turriff had a salmon at 14lb. Temperatures remained around 20 degrees c but a little rain overnight on Wednesday into Thursday saw levels rise to around plus three inches. It did very little for catches and again most beats posted up to 5 fish for the week.

This week 26 August it is going backwards again. Low water and although grilse are being seen very few are being caught . A few fish caught at 8lb and only one into double figures that I know of so far.
Upper beats seem to have some sea-trout now in residence which have been scarce this season as well. There is no forecast of significant rain in the next two weeks.

That does nothing to encourage folk to come but I do have some weeks available in October at Mountblairy and now 2 weeks at Upper Netherdale and Carnousie.
Update 14 August 2013
The thunder storms on Wednesday 24 July did little for levels and we continued to be about 12 inches below normal level. Very little catches were reported as temperatures were in the middle twenties centigrade. Lucky beats managed to post 2-3 fish for the week. Sunday 28 July saw heavy rain all day and by Monday we were up to around one and a half feet above normal- but very dirty.

Heavy showers in the catchment on Tuesday saw levels up and down all day but by Wednesday we were settled at six inches above normal. Wrack, Scatterty, Montcoffer, Avochie, Castle Water and others reported a few grilse and the occasional salmon. A sea-liced fish of 6lb came off Carnousie. As levels dropped away to normal a few more fish were reported but nothing great. Monday 5th August saw levels at normal and beats from Marnoch down landed a few grilse and several were lost. Thursday saw a rise in levels by a foot and a few fish were caught.

Again top performing beats had around six fish for the week but nothing startling given we had a few rises of water.

This week I have been out fishing on my usual week- and I must say I have been pleasantly surprised by the amount of grilse in the river. I saw around 5 in only an hour around 9-10pm on Monday and landed a sea-liced fish of 6.5 lb and last night I saw around a dozen in the three hours I fished. I had no takers with minute and delicate tactics but did rise two in 5 casts with the sunray shadow on my last foray down a pool just as it got dark. These fish all seemed to be around the 4lb plus weight and indeed Muiresk reported fish on Monday at 5.5lb and Avochie at 4lb.We have supposedly heavy rain forecast for the end of this week- and it is a large spate we require to flush out the system and bring in the fish that must be waiting off shore.

Update 23 July 2013
We await the thunder storms that hopefully will give us some water. The last two weeks have been very hot and sunny and levels have dropped away to 10 inches below summer level.

8 July saw beats just up from Turriff land a few grilse and salmon to 9lb and some other middle beats had around 5 for the week. The sea-trout continued to be poor.
Last week saw a small run of grilse enter the river on Monday and a few came off up until Tuesday when things then switched off again. Even fishing through the night yielded very little for the more ardent fisherman.

Looking ahead we still have some availability- next week we have weekly rods available at Forglen- could be just right if we get some rain as forecast. Cancellations include- week 18 August at Upper Netherdale Waterside, 2 rods at Mountblairy with a cottage week 13 October, 3 rods and Flat at Avochie week 7 October and 4 rods at Ferry Cottage Upper Netherdale 17 October.
Update 9 July 2013
As we entered June we looked back on our spring fishing and had an unexpected result. Despite poor conditions and no great significant run of fish this year – the river plodded away with a few every week and this was interspersed with a few better weeks. In all a total of 101 salmon were reported to ourselves off the river until the end of May, so we can add between 20-50 to that total to give a rough idea of our spring numbers.
All in all not too bad for the conditions.

May 30th saw sea-liced fish off Muiresk and this was followed up on Friday May 31 with fish off Forglen, Turriff and Muiresk again- many sea-liced.. As we entered week June 3 levels were at normal level and dry conditions prevailed. Forglen lost a few sea-trout , Mayen had a decent start to the week with a few salmon , Eden had 2 salmon and 7 sea-trout by Tuesday and Muiresk saw more salmon but with levels dropping fast we were at four inches below by Saturday and later half of the week catches dried up like the river. The following week June 10 saw temperatures in the 20's and the best fish of only a few reported was a 14lb fish off Muiresk. The week of June 17 got off to a better start and many beats had a few sea-trout on Monday and this was repeated again on Tuesday with Turriff, Muiresk, Scatterty and Netherdales reporting sea-trout. Again Friday was a decent day and most beats reported some action and even the lower beats managed a few sea-trout. Sunday June 23 saw torrential rain all afternoon and evening and the river opened well up and eventually peaked out around 4.5 feet above normal. Despite this the Castle Water Huntly had a decent day with Salmon and Sea-trout in the book. Tuesday saw levels at 1 foot 3 inches at Turriff and upper beats began to see plenty fish. Castle Water, Avochie and Upper Netherdale all reported salmon and sea-trout. By Wednesday some middle beats were on the score sheet with Laithers and Euchrie putting in a decent performance and Avochie landed fish of 16lb and 10lb first thing. Marnoch Lodge had a good day on Thursday but by Friday levels were back down below summer level. By Saturday reports indicated that most beats had at least 7 salmon, some were in double figures and one reported 24 salmon and 5 sea-trout.

As we entered July Levels began to fall away rapidly and as the sun came out to play early mornings between 5 and 8am were giving best results. Muiresk again put in a commendable performance with a long tailed sea-liced fish of 8lb followed by fish of 13 and 10lb and Avochie still had fish in the pools as a 8lb fish came out on Friday. As I write now the river is at least 8 inches below summer level. Running Clear and it is around 15 degrees. Air temperatures are in the mid to high twenties and it is certainly not great conditions for fishing. However a few fish are coming off and those anglers fishing at any time of day be it very early or during the day are still seeing fish and catching one or too- so it is not a complete write off.

I still have fishing available and a few cancellations which sees Upper Netherdale with some weeks at Waterside In August and October at Ferry Cottage as well as 2 rods and a cottage at Mountblairy in October along with 3 rods and the flat at Avochie. We have great availability at Castle Water Huntly until mid September and with more anglers fishing this lovely beat the book is beginning to look healthy and should encourage more anglers to fish it all year round in the future. It is also reporting Grilse catches so some of them are spread through the system as well. The Wrack has some short notice stuff available on a weekly basis as well. Just give me a call if you are interested in any of these lets.

Fortunately we have been very busy in the shop – especially on the shooting side and have now been able to fulfil our back lying Beretta orders as new stock has entered the country. Ammunition stocks are holding up well and at the moment we are having no sourcing issues being seen in the USA. Winchester, Hornady, RWS, Federal and Remington brands are all fine meantime. Air rifles continue to smash all expectations and stocks of Stoegers, BSA, Gamo ,SMK, Hatsan and Brocock are changing twice weekly. We are holding a Zoli day in conjunction with Edgar Brothers and Inver Moriston Gun Club on Friday and Saturday 26 and 27 July near Loch Ness. All are welcome to attend and try out their respected range of shotguns. Deals will be available on the day for any orders placed.

Do not forget our full gun fitting service is available and we can get you alterations done or adjustable stocks fitted to your existing guns. We can also provide some clay pigeon shooting for you if you have some ground we can set up on. This can be done for fun or for the more serious with gun fitting included if you require. Some fishing beats are allowing this if the river is out of sorts as it is now.
We have plenty of small flies in stock along with micro tubes and riffle hitches for these low conditions and they are proving to work well when nothing else will.
Update 29 May 2013
Friday 26 April rounded off a reasonable week with fish from Montcoffer to Huntly being caught. Week of 29 April saw fish to G Forbes, R Cardno up until Wednesday and then fish of 16lb off L/Netherdale, sea-liced fish of 9lb off Muiresk and then Friday saw sea-liced fish off Netherdale and Wrack. Saturday saw the river at one foot and coloured and on Monday May 6 we saw a few fish taken from Turriff to Mayen- most of them sea-liced. Levels dropped to normal by Wednesday and then a small rise of about three inches on Friday saw fish off Muiresk and Saturday saw Marnoch land 4 to 10lb.

With levels around normal we saw very little activity until the 15 May when Laithers saw a 15 lb fish, and Thursday saw several fish off middle beats to one over 20lb. Monday 20 May saw a 12 lb fish off Marnoch as levels were up a little to plus seven inches. The rest of the week remained poor and with heavy rain overnight on Thursday into Friday we saw levels peak just over four foot on Friday. By Saturday this was down to one foot six inches and very dirty. Monday this week 27 May opened at around six inches and one 13lb fish was reported off a higher beat and another of 13lb off Turriff.

With a significant rise in levels and no fish caught , we are obviously struggling along with most of the other rivers in Scotland. Numbers are well down on last year but probably not so drastic against the average. The weather remains terrible with the odd warm day only. Obviously not wet as we have had very few rises in levels but dull and cold. We should be looking forward to the sea-trout putting in an appearance in the next few weeks but as yet there is little sign and we have not encountered the larger fish that we usually get before the main runs. Lets hope we get some sea-trout and an improvement in the weather.

With that hope in mind if you are interested in coming the following are available- Forglen- 23 June 2 rods, 8 July 2 rods plus accommodation, 26 August 3 rods plus accommodation, Wrack- 2 June 3 rods, 10 June 3 rods, 8 July 3 rods, 14 July 3 rods, Dunlugas- 3 June 4 rods plus cottage, 10 June 4 rods plus cottage, Mountblairy- 30 June 4 rods plus two cottages, 7 July 4 rods plus two cottages , 13 October 2 rods plus a cottage. Upper Netherdale has Ferry Cottage with 4 rods available, week 10 June, 17 June, 29 July, 19 August and 17 October and Ferry and Waterside have the last four days of the season available.

Update 25 April 2013
With river levels remaining around the 8 inch mark for some time we had a slow but steady catch rate. Week of 25 March saw R Ewen at Forglen return a sea-liced fish of nearly 7lb , Wednesday saw G Slater land an 8lb fish at Laithers. The weather continued to be cold and frosts overnight. April 6 was the next reported fish with an 8lb specimen to S Barron at Marnoch and a 12lb fish off Mountblairy. With Snow Lying on the ground every morning for the next week it was the 11 April before we saw another fish off Marnoch. Milder weather saw snow melt and we saw 4 feet of water on the 14th. By coincidence it was the 14 April 2012 when we saw the first rise and it brought in a good few fish. By Monday we were down to below 3 feet but dirty. Wednesday saw levels at 14 inches and clearing. Forglen saw four fish – 17,16, and 2 at 10lb and another off Marnoch. Muiresk saw J Reynolds take two sea-liced fish at 11 and 13lb and another around 15lb lost. Mountblairy, Marnoch and Upper Netherdale all recorded fish on Friday and Saturday saw fish of 6 and 8lb to R Breakell, 12lb off Marnoch to R Henderson and 6lb fish off Avochie. As we opened this week of 22 April Forglen saw an 8lb sea-liced fish and Turriff , Marnoch, Glennie and L/Netherdale have all recorded fish so far.
Fish continue to be seen running through in small pods although they are running hard. Levels are dropping away and any rain forecast never appears. Colder weather is now with us again but no real rain forecast.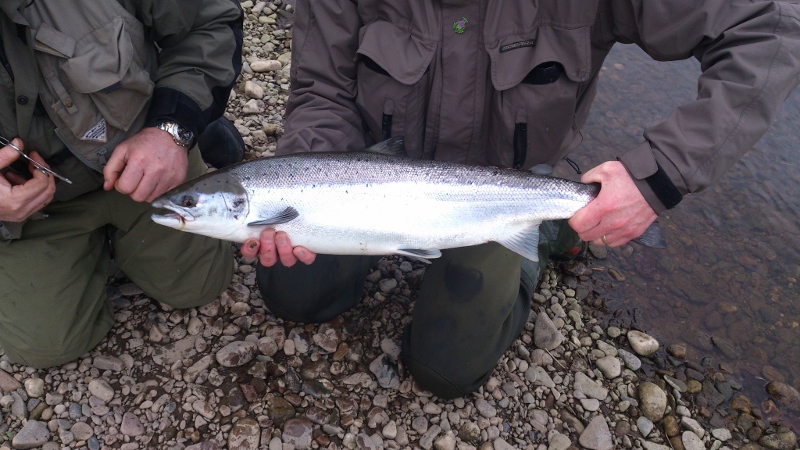 Forglen 2013

S Barron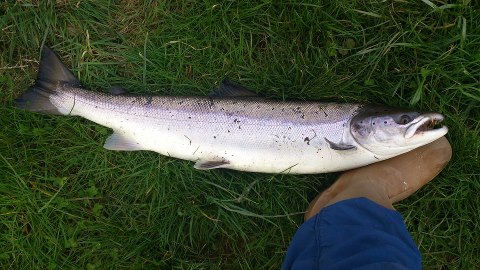 Turriff 2013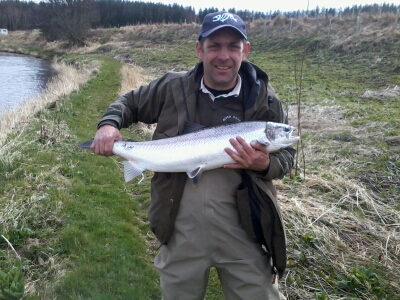 R. Henderson
Update 25 April 2013

LADIES FISHING DAY ! - FOLLOWING IN THE FOOTSTEPS OF MRS CLEMENTINA 'TINY' MORISON

On the morning of 21st October 1924, golden leaves began to fall from the trees that lined the banks of Aberdeenshire's River Deveron. Autumn had finally arrived and with a crisp, early morning chill in the air, salmon fishers saw it as their last chance to try an outwit an end-of-season specimen. One of those was Mrs Clementina Morison. Affectionately known as 'Tiny' to those who knew her, little did she know that on one of her casts that day, she would send shockwaves around the world to stake her claim in
history forever. As she sent her fly across the water, she watched as her
'Brown Wing Killer' followed its path in the current. Suddenly, her line slammed tight within her fingers and with a lift of the rod, a historical episode in salmon fishing had begun.The fish pulled hard but Tiny used all of her skill to guide the heavyweight creature to the bank side of Lower Shaws at Mountblairy and eventually in her very own words she said: "I rushed down, put my hands in the gills and dragged it up onto the bank, a beautifully shaped, well-hooked and coloured cock fish."Her true feat wasn't actually realised until 24 hours later when it was finally weighed.
Amazingly, 61lbs registered on the scales and according to some, it could have lost up to 2lbs in the time leading up to weighing. Little did Tiny know but this was the heaviest fly-caught salmon in the UK and on Deveronside, a legend was born that still lives on today.

NOW IT'S YOUR TURN:
Now you have the chance to follow in the footsteps of Mrs Clementina 'Tiny'
Morison On Saturday 1st June, in association with the Deveron, Bogie & Isla Rivers Charitable Trust, Anne Woodcock (FishPal) is holding a Ladies Day on the Mountblairy beat where Mrs Clementina 'Tiny' Morison landed her magnificent record-breaking salmon.
The day is aimed at ladies who would like to try salmon fishing for the first time and for those who would like to improve their fishing & learn new techniques. The day will cover equipment, flies, watercraft, casting and will be supplemented with learning materials and video. Casting instructor Paul Little (AAPGAI Master in the double handed rod) will lead the day along with Anne.

Cost £45 per person this includes fishing, tuition and lunch. There will be equipment available. The ticket price will be donated to The Deveron Bogie and Isla Rivers Charitable Trust to help with conservation initiatives.

Places are limited so to book contact Anne Woodcock: 01573 470612
(anne.woodcock@fishpal.com) or contact Turriff Tackle & Trophies:01888562428 (Turrifftackle@FishingTheDeveron.co.uk)
Update 25 March 2013
With the opening day ceremony past the river saw a small rise to one foot five inches on Tuesday 11 Feb and then dropped back slowly. Tropical temperatures of plus 9 degrees hit us on Thursday and this resulted in more snow melt giving a rise approaching two feet on 15 Feb. The dirt washed out over the weekend and by Monday we were at one foot ten inches with a slight colour.
George Anderson landed the first fish of the season on Monday off Forglen with a fish of around 11lb. This was followed up by George Fleming with an 8lb fish on Thursday – again off Forglen. The weather remained cold with snow and levels opened around plus eight inches on Monday 25 Feb. Saturday March 2 saw levels still at plus eight inches and B Johnston landed a sea-liced 18lb fish Off Forglen and David Borthwick an 8lb fish off Lower Netherdale. We had to wait nearly another week before reports of another 8lb fish off a higher beat came in on Friday. This was followed up on Saturday with another sea-liced fish off Marnoch Lodge to Nick Briant.
With light snow again at the start of week 11 March Les Tyson landed a 14lb fish off Forglen on Wednesday 13 . The end of the week saw heavy rain and levels reached over two and a half feet above normal on the Monday. This dropped to around one foot four inches and began to clear by Wednesday and G Fleming landed another fish of 9lb off Forglen. Saturday 23 March then saw B Johnston land a fish of 9lb again off Forglen. He also lost a double figure fish and landed a baggot of around 18lb.

Levels today Monday 25 March are around 8 inches again and clear. By 10 am R Ewen had landed another sea-liced fish of around 6-7lb off Forglen.

Numbers of rods out fishing are greater than last year despite the cold conditions and anglers are fishing other beats apart from Forglen. However as it seems to be the stopping point for the fish it is fairly popular amongst the local rods and continues to bring success.
The opening of the Trout season was cold with a rise in levels on March 15 but the Saturday saw Castle Water Huntly land specimens of 1.5 2.5 3 lb and a 4lb fish lost at the net. These all came off to deep nymphs. Our reputation as a top Brown Trout destination is beginning to filter through and we are seeing many more enquiries from all over the UK for availability.

We still have availability in June at Forglen as well as Upper Netherdale at Ferry Cottage up until August and even a week In October. Also rods at Mountblairy with a cottage in October as well as July.
Wrack, Dunlugas and Castle Water Huntly also have availability- check out the availability page or ring me for details.

As stated earlier- we are using our Facebook and Twitter page (twitter feed is on our main page) for updates on a more regular basis for catches and any new stock we have in that might be of interest. So please join to be kept up to date.

We also have a new service. Shooting lessons with a fully qualified instructor can be arranged as always. However we have some equipment here and others to arrive to enable us to take to customers and set up on their ground- a simulated game day. We can cater for up to 12 guns at a time and customers can choose a set number of clays for the type of day they want and any extras will be charged per clay. This has already attracted some interest for Birthdays as well as barbeques and of course getting your eye in before the game season and the Grouse start in August.
We can obviously slim this down – so if you have time you can fit it in around any fishing- and some beats will allow you to do this on their estates whilst you are there. Again ring me for full details.

Update 11 February 2013
Opening day saw levels at just under two feet with a hint of snow melt. Temperatures were around 4 degrees in Turriff although the catchment had snow lying overnight.
Mr Paul Young from Hooked on Fishing officiated at the ceremony and presented Mr Craig Wyness with the Morison Trophy for the heaviest returned fly caught fish off the Deveron last year ( 29 lb) and a G Loomis rod.
Paul Young blessed the river and Craig took the first cast of the 2013 season.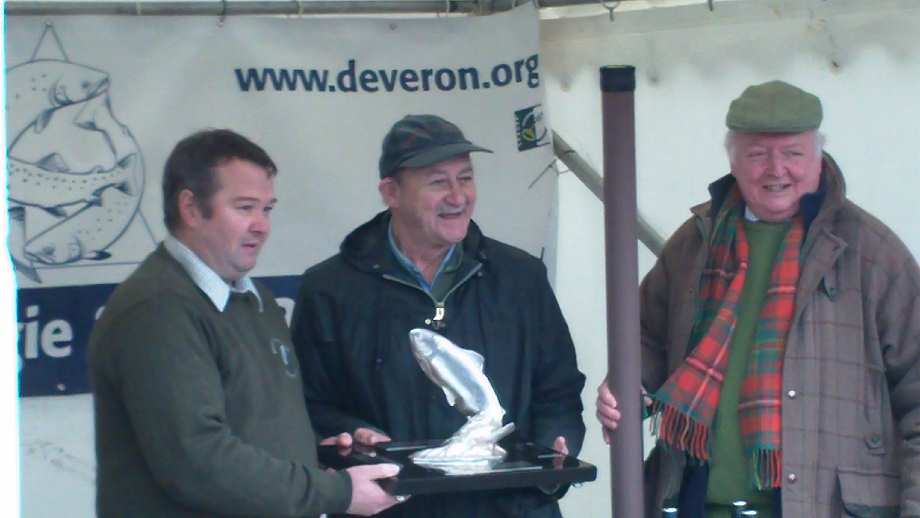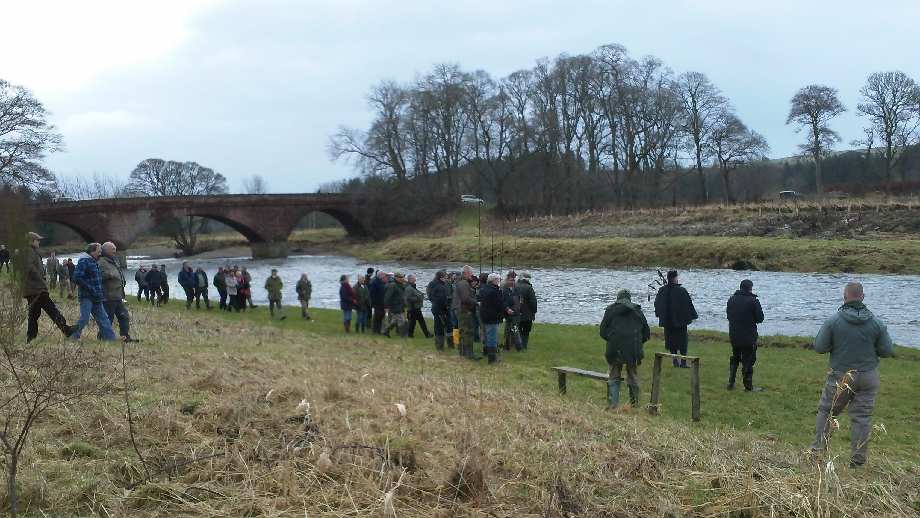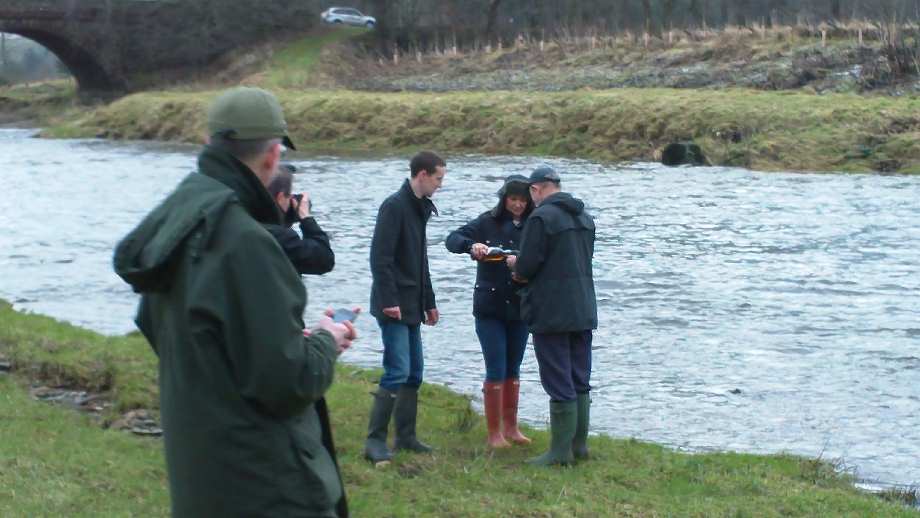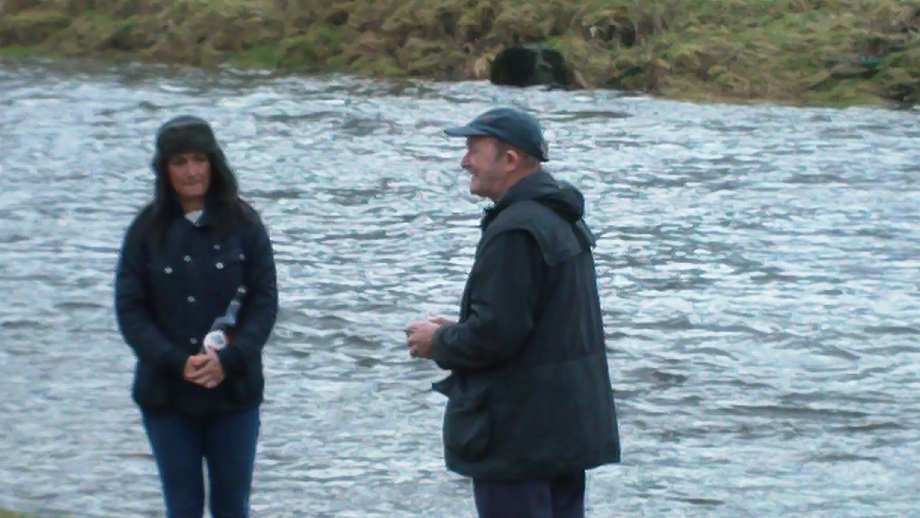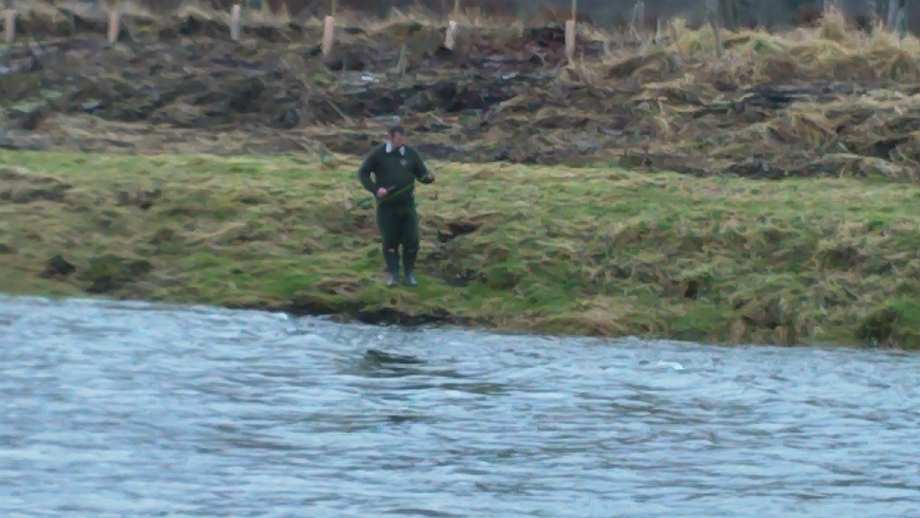 Update 17 January 2013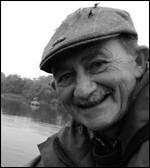 Opening of River Deveron 2013
In Association with William Lawson's

We are delighted to announce the opening of the river Deveron fishing season 2013 and the presentation of the Morison Trophy. The trophy is being presented for 2nd time at the opening ceremony on the 11th February at 10.00am, Turriff AA lodge, Turriff Bridge. The trophy presentation will be followed by the opening ceremony in association with William Lawson's. The Morison Trophy is to be officially presented by Mr Paul Young. Mr Young is a Scottish television actor and some of his credits include The Tales of Para Handy, No Job for a Lady, Coronation Street and Still Game. Paul has gone on to find long-lasting fame among the fishing community, fronting a series of fishing TV shows, which began with "Hooked On Scotland" on the BBC in 1991. Mr Young has also been given the great honour of blessing the Deveron with a dram of Glen Deveron Whisky and thereafter the first cast of the season will be taken by Mr Craig Wyness, winner of the Morison Trophy for 2012.

Last season over 3182 salmon and grilse were caught, which was an increase on the previous year's total (2755) and above the rod-catch average. Spring catches increased by 66% to 255 salmon by end of May, with 188 (74%) returned to the river. Summer catches of salmon increased, with consistent rainfall and more suitable angling conditions within the middle and upper beats. During September and October there was not the same visible presence of salmon as in previous years but catches remained steady. A notable salmon of 29 lbs was successfully caught and returned at Upper Netherdale during October, which ultimately secured the Morison Trophy. The sea trout catch decreased from 592 to a total of 521, ranging from 3 to 8 lb of which 73% were returned. The River Deveron District Salmon Fishery Board ask that all salmon are returned from 11 Feb to 31st May 2013 to help conserve spring stocks and also all sea trout are returned throughout the season. The guidance on sea trout will be in place for a minimum of three years or until stocks recover to acceptable levels.

All Welcome and Tight Lines for 2013!






Richard C Miller
Senior Biologist

Deveron, Bogie & Isla Rivers Charitable Trust, The Offices, Avochie Stables, Avochie, Huntly, Aberdeenshire, AB54 7YY

Tel: 01466 711388 / 077 3055 4170
Fax: 01466 711282

www.deveron.org

Charity No: SC 032131

Update 15 January 2013
A link to the Deveron, Bogie and Isla Trust's, GS Angler's Declaration form has been added to the 'What's New' Section of the Website (to the left of the page)
Update 10 January 2013
Welcome to the 2013 Season
The season will kick off with Paul Young from Hooked on Fishing opening the river at 10am Monday 11 February at Turriff Angling Association. All are welcome to attend.
You can follow us on twitter (turrifftackle) where we will continue to post daily river levels and information as we get it. We also have a Facebook ( Turriff Tackle) page where we can post up pictures of new stock etc rather than clutter this page- so please follow us if you wish this information. We will have an array of new product from Vision and Rio and also have access to vision products not normally sold in the UK, along with product lines from Abu, Mitchell, Shakespeare, Jarvis Walker, Rapala, Shimano and in a month or so Loop.