River Information 2009
Information on river conditions, catches etc.
What's New:
Letting Updates
Lets now going up for 2013 season.
Click on the above link to download the GS Anglers Declaration Form
Current News
Turriff Bridge Webcam

The Webcam located at the Turriff bridge is now live. To view either click here ,or click the 'Turriff Bridge' icon in the Webcam section.
Welcome to 2009
Salmon and Sea-trout season- 11 February 2009 to 31 October inclusive.
Brown trout season 15 March to 6 October Inclusive.
Once again welcome to another season.
Every year I put out a plea for more anglers to join the Trust. Once again I do it again. This Last year I was appointed a trustee and have a greater interest in getting you to join. The Trust is carrying out valuable work not only on habitat improvement but also in highly technical work required to assist/combat/ enhance the multitude of bodies that are full of red tape and other threats to the catchment.. As a result of Mr. Richard Miller joining the trust as our biologist we have been able to take part in the Moray Firth Sea- Trout project which is to look at our sea-trout decline and advise on measures to improve things. The Deveron Bogie and Isla Trust is at the forefront of Trusts in Scotland and has been chosen as an example of best practice and our river will benefit as a result. It only costs you £25 per year - or you could donate to specific projects if you so wished. Please get in touch if you want any more information and I will get the details to you.
Members of the trust will get 5% off tackle in the shop if spending over £20
Our voluntary code has also come under scrutiny. The Deveron used to have one of the best catch and release rates of any river in Scotland. It now lags behind and we are under some pressure to improve it. The return rate is around the 50% mark. Whilst I do not believe in 100% catch and release we need to be around 65-70% to be comparable with our neighbours the Spey, Don and Findhorn.
The code is to be changed for 2009 - at one spring fish per day with a Max of three per week and then after June, 2 per day but all hen fish to be returned after August 21. Sea-trout are in dire straits and the code is amended to only two sea-trout per week and none over 3lb to be kept.
The PLEA is that the River Board would like to see 85 % of Spring salmon returned .
Once again To soften the blow the Trust is giving away smoked salmon for every Spring fish that can be verified as being returned.
2008 was a tremendous year with many beats breaking records. Let us wish for a little water again this year to keep the fish coming.

As for ourselves at Turriff Tackle we are now main dealers for All Vision and Rio products. We try to be as competitive as possible . We do a mail order service via telephone or through our web shop or can have your new tackle waiting for you to pick up upon arrival. For those regular visitors you will find the shop re-furbished after January with hopefully better displays of our huge range of products - some of which were always hidden away.
We have a full and extended range of trout flies for 2009 and Salmon flies such as Templedogs, coneheads, monkey flies and Sunray shadows always in stock. We have a large range of shooting head lines in stock and will be one of the selected dealers for Pfleuger Trion rods reels and lines in Scotland during 2009.
We also have some preserved sea- bait and everything you need to go sea-fishing off the pier or rocks.
We look forward to seeing you in 2009
SPECIAL OFFERS
I HAVE A FEW OFFERS THAT YOU MAY BE INTERESTED IN.
Shimano Limited Edition RE 5000 Baitrunners at only £59.99
I also have the new Wychwood Salmon rods in . 13' , 14' and 15 ' starting at £129.99
CHECK OUT
http://www.wychwood-game.co.uk/rods.html FOR MORE INFORMATION.
Give me a call if interested in any of the above.
UPDATE 10 DECEMBER 2009
I am now taking the bookings for 2010.Vacancies will be available at Upper Netherdale and Carnousie and many beats have early weeks available in June / July. Please contact me to get your name down if interested.
Update 4 November 2009
BOY OH BOY !!
Monday opened at 7 feet above normal after more heavy rain all day up in the catchment. Tuesday saw levels down to 3.5 feet and a few fish were reported. Turriff lost over 9 fish with only one landed - to me a 5lb grilse returned. J Jack reported an 8lb fish on the fly as was T Lawson's specimen at 18lb. With rain all day on Tuesday we saw levels at 5.5 feet on Wednesday and dirty . Turriff managed over ten fish - mainly grilse but one at 8lb. Thursday was better with levels at 3.5 feet and Turriff landed a fresh 8lb fish to M Watson. Many other beats were doing ok and well into double figures despite the water height and many caught fresh and sea-liced fish as well as clean sea-trout. Very little was reported on Friday and with rain overnight levels were up 6 inches on Saturday. Fish were caught though and Upper Netherdale reported two at 16lb returned and a fresh fish at 12lb.So the fishing season went out on a whimper with loads of fish running but reluctant to take and levels that ran consistently too high for great fishing. NOW it rained all day on Sunday from about 8.30 am although it was not until around lunch time that we got a deluge which went on for around 4-6 hours. The result was the highest spate ever recorded on the river at around 23-24 feet at Turriff. Septembers flood was relegated to second spot by about 1-2 feet and the damage is something else. We are still running at 4 feet today and although bank damage can be seen we cannot see the pool damage as yet. Let us hope we now get a dry winter as we are now struggling to catch broodstock and if we get many more spates at half the size of these two, redds will get damaged so we need a back up more than ever.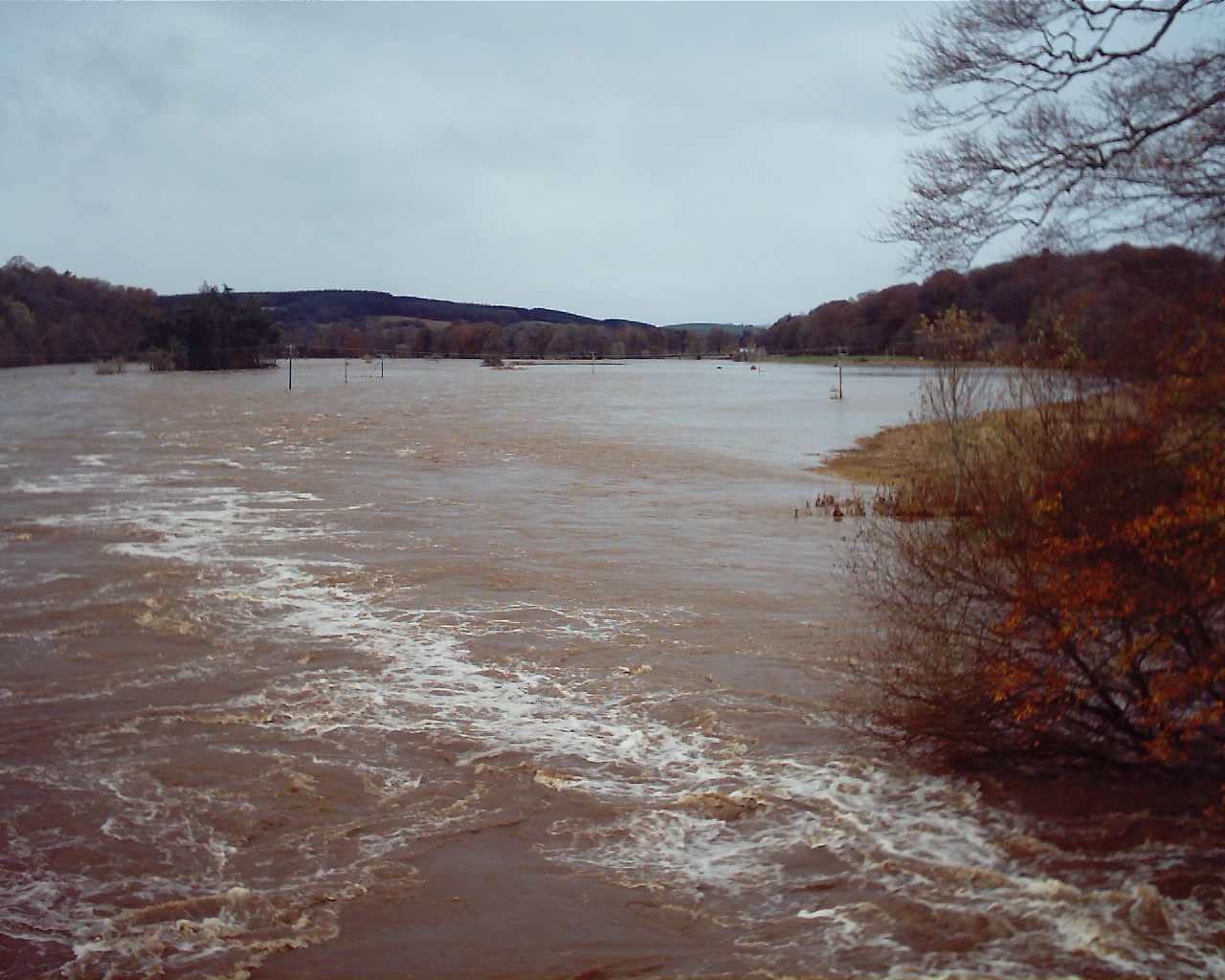 Taken from the bridge at Turriff looking downstream. It sounded like an express train coming under the bridge.


Looking upstream from the Bridge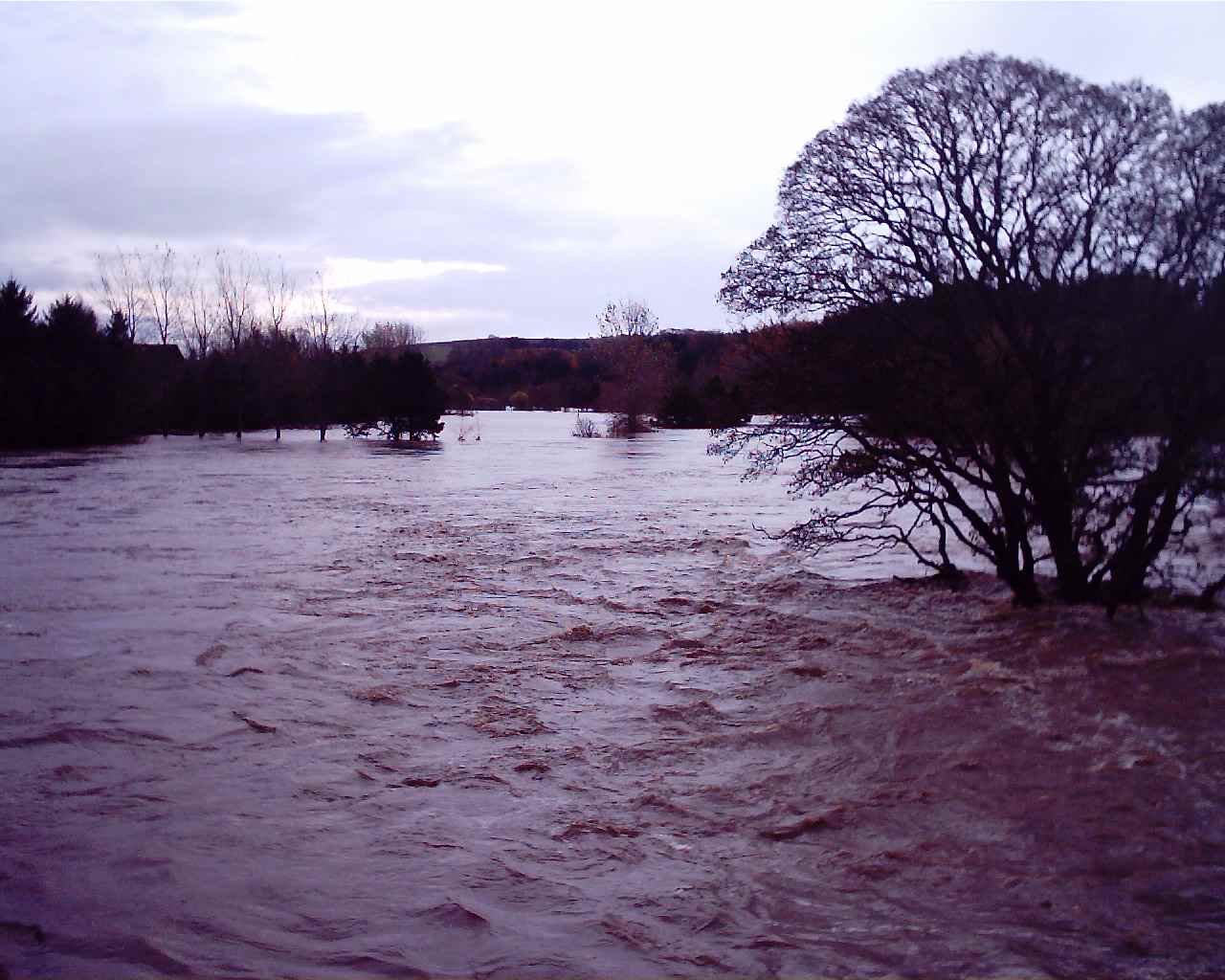 Another Looking upstream towards the "golf Course " in the distance. It is still full of water today and bridges over the small Turriff Burn have been ripped up.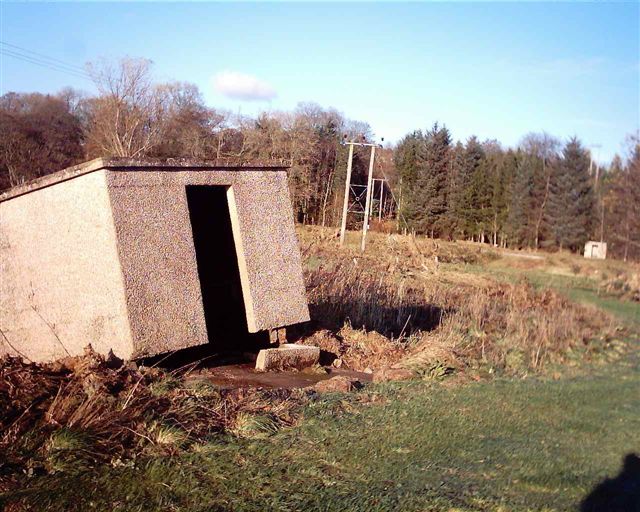 This hut was built in 1981 and is well away and up high from the River at Turriff. It has been undermined and slipped back and up into the resulting hole. It will have to be demolished.
For those of you who know Muiresk this is the field bottom of the Coombs / top of The Kirkton. This "field" was green and is usually full of cows. It now boasts thousands of tonnes of gravel!!.
This is Deveron Bogie and Isla Trust staff electro fishing to save fish trapped in the pools.
I have beats available for 2010 already. Upper Netherdale and Carnousie spring weeks and a week in July for 4 rods and a cottage at Dunlugas. Ring if interested.
Update 25 October 2009
Some week.Monday got off to a flyer with lower beats hitting it big time. Dunlugas - fly only in October landed 23 for the day and lost nearer 30. These fish included many sea-liced specimens from 5-16 lb. Forglen also had a good start and were well into double figures by Tuesday. R Breakell landed four to 23 lb and Upper Netherdale saw fish again some to 16 lb and sea-liced. Turriff saw three to C Wyness and other lower beats reported double figure catches. Tuesday saw a storm and fly fishing was near impossible. Wednesday saw it still very windy but with heavy rain. Overnight we saw torrential rain and the river saw levels peak out at around 12 feet above normal on Thursday morning. This flash flood was on the drop during Thursday but it continued to rain all day .Friday saw levels at 5 feet and dirty but Turriff managed four grilse one of which was sea-liced. Saturday saw levels at 3.5 feet and many beats reported catching fish in the margins. Heavy rain again Sat pm saw levels rise again to peak around 7 feet above normal early Sunday morning. Its looking like hard work with high levels until the tail end of the week. At least we have no shortage of fish in the river now and high water will allow passage to the spawning grounds.
Update 19 October 2009
Tuesday 13 October saw levels rising in the morning and peaked out at nearly 3 feet. A few fish were reported early as the water began to rise and it was still clear.. Wednesday saw levels at 4 feet and very coloured. The river was unfishable unless using a worm and one chap landed four all returned and lost as much for his day. By Thursday we were down to two feet and very black. The river was stuffed with running fish but they refused everything for the most part. Turriff reported two sea-liced grilse around 4pm and other beats reported the odd fish. Friday saw levels down to around 1 foot 7 inches or 9 inches above on most sticks before the flood. Turriff saw N Alton land three sea-liced fish at 7lb,4lb and 2lb whilst another angler landed one at 4 lb again sea-liced. Again lots of fish running in small shoals but most very reluctant to take. By Saturday we were well down to around plus 4 inches and the river was clearing fast. I know of one beat where 5 were caught in under an hour and another beat returned a fish over 25lb. There is also reports of a hen fish being returned which in length measurements weighed well into the 40lbs. This week after a little frost at the weekend most beats are picking up a few fish. One beat reports landing 13 fish to four rods and loosing upwards of 15 - just for the morning and all on the fly. Rain is forecast for the next few days - let us hope it is not as forecast as we could be heading for another large damaging flood.
Update 12 October 2009.
A better week for most but not all. However the river is full of fish - if not in the abundance of last year. Tuesday 6th saw levels down about six inches and U/Netherdale recorded a fish at 25lb and Laithers one at 20lb. Turriff saw a sea-trout and a grilse and Scatterty reported one fish. Wednesday saw the river clearing out and a lot of sea-liced fish were caught from Turriff Down. On the day itself Turriff saw two grilse at 4lb - one sea-liced to I Masson, I had a complete contrast with a grilse at nearly a pound !! and a sea-liced fish at about 9lb. J Brock landed a sea-liced fish off about 16 lb and his fishing friend K Eastwood had three in half an hour. Indeed by Thursday their party of three rods had landed 16 fish at Forglen. By the end of the week the river had cleared and dropped away to just above normal level. As stated most beats had fish. Turtory reported over 6 with two at 12lb, L/Netherdale over 20, D Plumpton reported 10 for his week at Castle Water Huntly, Colin Price at Mountblairy reported 5 fish for his week at 10.5, 9.5, 7 lb and two fish at 20lb 11 oz and on Saturday out of the Shaws pool a fish tipping the scales at 28lb 1 oz. All fish except the 7lb one were returned. I also heard of one beat catching nothing for the week and its three near neighbours were over the thirty mark each. A lot of these fish were very coloured and it is thought they were fish washed down river on the large flood in September. This week has kicked off again with plenty of fish being seen on the beats but very reluctant to take in the clear water. Levels are up 3 inches on the back of showers yesterday but it is still running clear. I have a few fish reported today from the lower river and R Breakell had his best ever day landing 6 at approx 5, 15, 7, 2, 17, and 19 lb with another beached on the gravel before it came off. Again the beats near neighbours struggled with one. Again tonight it is raining which was not mentioned on the forecast. We really need a little colour in the water to give everybody a chance at the fish .
Update 6 October 2009
The river continued to go up and down on a daily basis and the crystal clear nature of the water went slowly. By Thursday Muiresk had a few grilse and two fish at 22 and 23 lb. Friday saw the river up another 4 inches and Carnousie produced three salmon and two sea-Trout to G Noble. J Cruickshank lost a large fish and another of 14 lb was landed - again at Carnousie. Turriff Angling Association also managed three grilse .Saturday saw tremendous gale force winds - but J Brock was rewarded for persevering with a fish of over 20 lb Returned at Forglen.. They reported five for the week to three rods and Marnoch Lodge also reported five with J Hardy at Scatterty reporting 3 grilse and one Salmon.The fish are there now in decent numbers but still hard to tempt. Overnight rain saw the river up around 18 inches on Sunday which left us with a level of 1' 8" - or about +8 inches in old money (before the great flood the gauge would have read + 8 inches). This was very peaty and Turriff Angling Association turned in the best performance on the river Amongst their returns for Monday were A Ironside with fish at 12 and 11lb . P Geddes with one at 10lb, I Masson with a fish of 7lb and L Ironside with a clean fish of 20lb+. All were returned. Most beats posted a couple of fish on the river. Today Tuesday it is down 6 inches and still peaty. Catches today have tailed off somewhat and the forecasted heavy rain never materialised.
Update 30 September 2009
The weather remained "glorious" for the rest of the week. Indeed Saturday saw temperatures around 22 degrees with not a cloud in the sky.
Again a catch figure of 7 was a reasonable one for the week but fish were still all "grilse" of under 6 lb. However Friday saw a subtle change with many beats seeing a good few fish . Most of these were coloured but a few fresh fish amongst them. Although still warm Sunday was dull and Monday opened with light rain and drizzle. At last beats reported seeing plenty fish with many clean ones amongst them. However they were hard to tempt with many coming adrift if tempted. Dunlugas managed five and Muiresk landed a fairly big fish as well. Tuesday saw levels up 3 inches first thing and rising a further 3 inches by 5 pm although the water remains clear. I have reports of sea-liced fish coming off Dunlugas on Tuesday. Continued light rain on the high hills sees levels up a couple of inches again today - but it is still clear and the fish are not being cooperative . With a decent head of fish in - at long- last lets hope we get some colour in the water to turn the fish on to the take.
Update 23 September 2009
Things are a little better this week. Most beats have now recorded some fish . Upper Netherdale and Carnousie report 8 to 8 lb for Monday with some clean grilse amongst them. Mountblairy landed two sea-liced grilse Monday morning and Avochie have seen their first number of clean fish on Monday for a week. Lower beats have fish but many are stale. One angler has had six to Tuesday mid morning inc fish at 9 and 14 lb but they are not fresh. However they are seeing clean fish going through. Muiresk has fish in the pools and have landed three up to Tuesday am. Just remember with bright sky's and gin clear water; be stealthy .
Update 21 September 2009
Monday 14 Sept Opened at 1.5 feet or was it + 7" ? On the old pre flood gauge I think nearer the 7 inch level. The water ran crystal clear and the shingle filling all the pools was shining as if it had all been polished. Was there any fish caught- very little. Most beats struggled to post one on the board. Forglen managed a few and Muiresk had 7. An 18 lb and a 22.5 lb among them. This was the number to aspire too !!- seven for the week. There were many long faces on the river with comments like - I have been coming 20, 30 , etc years and never caught nil on this week , we usually catch 20, 30 , 40 , etc. A few clean fish did put in an appearance on Friday and seem to have spread them selves out up the river. Avochie had 6 last week and saw plenty fish but today they have seen lots of clean fish. The grilse are still coming but are very hard to tempt. Today again beats have not seen a fish and are very glum. The river will need time to settle down and the shingle will move around in spates over the winter. Hopefully a few fish will arrive soon to help out October. I read that Canada has had a poor year for Grilse on its east coast- so it is a big problem all over ,for the Atlantic Salmon this year from Canada to Scotland to Norway.
Update 15 September 2009
Well OUR FLOOD TURNED OUT TO BE A RECORD. In some places it did not look as high in 1995 but water always runs in different ways at different heights and the short cuts it took this time were deeper than 1995 . Avochie recorded 1 inch more water in the hut, and it was about a foot higher as it actually went in the top hut at Forglen and about 2 feet higher by the time it reached Montcoffer. Many Gillies and indeed Turriff Angling members scoured and netted the lakes left in the fields and returned many fish to the river. Turriff's biggest returned fish from the fields was 14 lb.
The water level has dropped ever so slowly once it dropped to around 3 feet above normal. Many beats have suffered a huge amount of damage. Banks have gone, roads ripped up and washed away , huge trees across the river and of course the dreaded gravel has washed out in some pools and filled in entire beats. This new gravel will be a huge problem. If we get more winter spates of even three feet it will all shift around again and probably take years to settle down. For some it will be good news for others it will be a nightmare. If you thought you had the measure of your beat in your weeks fishing - its all change and you will have the "fun" of getting to know the new lies.
Back to the fishing- Saturday saw the river at 5 feet above normal and dirty. Turriff Anglers had a go with the worm and B Arnold had a grilse and M Watson took a sea-liced grilse at 3lb and 6 sea-trout for his day. All fish were returned. Monday saw levels at 2 feet nine inches and still dirty. The catch returns exploded. Turriff had 12 to 15 lb, Dunlugas had 9 to 15lb, Mountblairy had 4 for the morning, Scatterty had 11- John White had 6 to 12 lb and Richard Thomas had his first ever salmon at 12 lb in the morning, followed by fish of 15lb, two grilse and one at 20lb. All but the 12lb fish returned. Marnoch Lodge also had 7 and Judith Croft took her first ever salmon at 22.5 lb. Tuesday was in complete contrast when many beats never saw a fish!! as levels stood at 2.5 feet . Wednesday at 2 feet saw Turriff land two to B Balment and Thursday saw N Bryant take two at 12 and 22 lb at Marnoch Lodge. Friday saw the river crystal clear at 1 foot 8 inches and again a few fish came off most beats. Most beats ended the week with totals in the teens but Dunlugas posted around the forty mark and one lower beat was not far behind. As today we are still running clear with a height of between +7 inches and a foot. With so many changes to the pools the gauges are all giving different readings up and down the river . We used to know what each one would read if given one reading. When things settle down we will get a better idea. As to fish- normal service has been resumed- they are a bit scarce- although we are still getting a number of grilse off the tides. Still no sign of a "back end run " though. Maybe with the grilse being two months late the back end run will be on Christmas day.
I have been informed that one rod will be available w/c 19 October at AVOCHIE. Please give me a ring if interested
Update 4 September 2009
Well things get better before they get worse they say. Most beats from Below Turriff to Banff all recorded totals into double figures. The Wilson party at Dunlugas had 12 to 20lb up until Thursday Lunchtime and Mountblairy were nearer the 20, with one lucky angler landing nine on Monday- all clean . Montcoffer posted 15 again until Thursday lunchtime. Now Thursday lunchtime is significant as it is the time the river began to rise. The rain came on around 3 am Thursday and it has rained non stop until lunch time today Friday. The river has peaked today around lunchtime at around 19-20 ft .
As in 1995 lots of huts have gone including I believe the gorge hut at Montcoffer- or at least it still may be hanging over the edge. The picture below is at the Turriff Bridge. The bridge at Banff was also shut in case it got hit by all the debris and bales coming down. Please click on the link below for some great pictures before and after to give you some idea of the flood today, taken by an angling club member this morning.
http://www.salmonfishingforum.com/forums/showthread.php?t=12692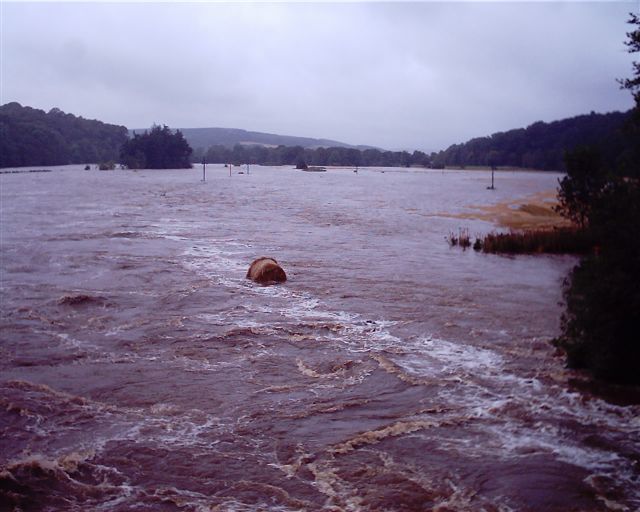 Below Turriff Bridge Today.
Update 30 August 2009
A better week in general for most on the river. Not all beats caught fish and many still struggled. Montcoffer had a better week with their fishers being on the river early morning to coincide with the tides, they reported 10 grilse up until Friday to 6lb. A few other beats saw similar numbers up and down the river but most of the bigger fish or salmon amongst those totals were stale and coloured red fish. Upper Netherdale and Carnousie saw a few grilse and a sea-liced fish to 9lb. The Tail end of Hurricane Bill came and went with very little rain and Friday's forecast was for a few showers. Well the few showers turned out to be quite heavy rain from 3 am early Friday and it rained almost up until Friday Lunchtime. The Middle river started to rise by 10am but the Deveron above the Isla and Below the Bogie only saw 3 inches . The Isla however was nearly over its banks and by 5pm the whole river was around 2 feet and getting very dirty. Levels peaked by 9pm at 4 foot 6 " above normal in Turriff. By Saturday am this was down 2 feet but still very dirty. Today levels are at 10" above normal and look excellent . Fingers crossed that Monday will see a good head of salmon arrive and result in better catch returns.
Update 25 August 2009
Monday 17th saw levels open at +6 inches and rather peaty. A few fish were reported off middle beats on the Monday to 12lb.Tuesday saw levels holding up at three inches above normal and Laithers , Forglen and Huntly all reported fish. Most were grilse around 4 lb but Mrs. Webb reported a clean fish of 18lb. By Wednesday things began to tail off and by Saturday things had fizzled out. The usual rumor mill got going about a beat and indeed the whole river being stuffed with fish and the phone calls came from far and wide wanting to know if it was true- if only it was!!. Thursday saw a little rise from - 3 inches to + 6 inches But it did not make much of a difference to fish caught. Turriff saw A Mathew take a grilse at 4lb and Dr Smith and party reported a couple of 8lb fish for their week amongst others. Anglers were really disappointed to drive up here on Sunday through torrential rain and could see every river in Spate. We got very little rain on Sunday and the river was up half an inch on Monday morning. However a few fish were taken up and down the river although further up they were mainly coloured fish. There are a few more grilse around but some are 1-2 lb only in weight and are not to interested in anything . Our forecasted rain gets less and less and it looks like the tail of hurricane Bill will not raise the levels much. However it is some salmon we would like to arrive in the next week or so to keep all our spirits up.
W/c 22 Sept is still available for 4 rods and Ferry Cottage at Upper Netherdale and Carnousie. Please ring me if interested.
Update 16 August 2009
Another week best forgotten. There were a few fish around and a few more grilse but nothing like it should be. I fished from 5am until 8am most mornings and again from 7pm till dark most nights and although I saw a few fish most evenings , it was very poor. Most beats picked away with around 8-12 for the week. Some saw salmon others grilse but lots were stale sea-trout still hanging around in water levels of about -3 inches. The forecasted deluge of rain never happened and instead we got a rise of 18 inches taking us to +15 inches on Saturday afternoon. This remained fairly clear and encouraged a few more fish to move upstream and fish were certainly running on Saturday night. A few sea-liced fish were reported on Saturday - a fish of around 16lb off Montcoffer and a sea-liced grilse at Turriff. With no reports of a grilse run further north we have to hope that a few salmon will enter the system on the back of this rise.
There is still a week available at Upper Netherdale and Carnousie at Ferry Cottage w/c 22 Sept. This may not be a startling year but it has proved on of the best weeks in the past three. The sitting tenant always gets first refusal every year.
Update 8 August 2009
The rest of the week picked away but did not set records. The better beats returned figures in the low twenties and others between eight and twelve. Higher beats certainly faired well early in the week but it tailed off during the week .By Monday the 3rd we were down to about normal and running clear. As the weather got hotter the water and the fish disappeared. Lower Netherdale reported a 22lb fish early in the week and a 16lb fish came off a lower beat . Turriff Anglers J Wilkie and B Arnold both returned sea-liced grilse at 3lb and Mountblairy reported a few grilse as well. We are now below normal by about 3 inches and things are looking grim on the fish front. All beats are grumbling and despite a few small shoals of fish being seen in pools briefly they are very hard to tempt. Reports from our neighbours and up north do not look encouraging as far as the grilse numbers go , so we will just have to grin and bear the poor returns for now.
Update 28 July 2009
Levels opened at 1' 6" on Wednesday after heavy rain overnight and Turriff Angling Association reported a 10lb fish and an 8 lb fish came off Dunlugas. By lunchtime the river was at 3 feet and very dirty. Thursday saw 14" above normal and very black in colour; very few fish were reported . Heavy Thunder showers saw levels up again on Friday and by Saturday we were at 3 feet above normal again and very dirty. However up river seems to have faired much better with Avochie having a good week with both sea-trout and grilse reported and A Watt had an 18lb up river as well. This week Monday opened at 1 foot and peaty. Some lower beats reported a few grilse and a 10lb sea-liced fish whilst others continued to struggle Forglen reported salmon, grilse and sea-trout whilst Marnoch Lodge reported a grilse to J Tait and a few lost. Carnousie and Upper Netherdale saw 3 salmon and four lost to two rods and again upriver reported some good bags of fish to individual anglers for the day. Today Tuesday at 9" above normal most beats seem to be reporting a few fish all over the river- so perhaps we have the start of the main run upon us.
I have w/c 22 September at Upper Netherdale and Carnousie at Ferry Cottage available for 4 rods. This usually produces an average of 20 fish for the week. If interested give me a call.
Update 21 July
Thursday night saw heavy Thunder showers in places and flash floods as a result on the River. The main river went up two and a half feet in 40 minutes in places. By Friday this was down to 11 inches above normal but it was rising .The Rain arrived come the afternoon and from 10.30 pm it poured down. This saw the river at two feet and muddy on Saturday morning - eventually peaking about five feet above normal. Obviously ,with days lost, fishing was not the best but Forglen ended their week with 5 salmon to 19lb and 5 sea-trout. Monday saw levels open at 1 foot 6 inches and very black in colour. Fish were reported off Scatterty 12 lb , Turriff Angling Association 14lb Mountblairy 1 lost at the net at approx 18lb. Lower beats reported a few grilse covered in sea-lice but again showing red-vent syndrome. Dunlugas lost two salmon over 10lb and returned two sea-trout. Laithers reported two fish with the loss of two and Upper Netherdale had several grilse and a few sea-trout.Today has carried on with most beats reporting a few fish. Lets hope we do not get the heavy rain tonight to raise levels again.
I have two Rods at Turtory next week - if interested give me a call. A cottage would be available if required. Daily rods are in high demand but there are still some available.
Update 16 July 2009
Levels came down to plus 7 inches on Thursday after the three feet the previous day. A few fish were caught but not very many and the water was inky black in colour. Thursday saw plus 4 inches and beats around Marnoch landed a few fish. Euchrie and U/Netherdale saw the odd fish and B Say had a grilse and two sea-trout. Friday - up again at plus 9 inches. and peaty. R Breakell landed a grilse at Marnoch Lodge. A Buchan had a salmon and two grilse at Forglen and M Peackock landed a sea-trout of 5 lb. Levels dropped away to around normal on the Saturday. Castle Water Huntly reported around 9 sea-trout and three salmon - all double figures to 16lb, all returned and Avochie saw light fishing pressure with 4 salmon and three sea-trout for their respective weeks.
Monday 10th July saw levels open at plus seven and very peaty after rain all day on Sunday. Forglen , Mountblairy and Avochie all posted fish and L Stewart returned a salmon in excess of 16 lb off Turriff Angling Association. Levels dropped during Monday but rain again in the high catchment saw the river rising fast first thing to reach 1' 6" by late morning. As this dropped heavy thunder showers in the area and again in the high hill saw levels open on Wednesday at 2 foot 6 inches at Turriff. A few sea-trout were reported and word of a salmon at Mountblairy of 18lb. Today we are down to plus 11 inches but again very dark. It looks like the river will continue to yo-yo with the rain forecast from now until Tuesday. This will unsettle the fish we have so it will continue to be hard work until the hoped "run of fish " arrive in August as they have done the past two years.
Update 7 July 2009
A week best forgotten. Temperatures soared into the high twenties and even into the thirties in some local hot spots. As a result the river temperature reached 25 degrees C . Some of the feeder burns on the high hills reached 30 degrees. Some fish became distressed and one when caught was dead before it was landed. Upper beats saw some excellent sea-trout catches early in the week before the temperatures soared. These tailed off a wee bit but they were still there to be had at the weekend. Lower beats suffered in the heat. The water levels stayed around the -5 inches mark but the water was just too hot and if beats got off the mark they only posted say one sea-trout for the week. Monday 6 July again saw a few sea-trout and salmon taken higher up the river. However Tuesday morning saw us find the river at three feet above normal. The rain must have been in the high hills - but hey- just what we wanted we will not complain. River temperatures are down to + 14 degrees and once the colour goes we should be in for a great spell as it has been two weeks since any fish have entered the river in any great numbers.
Update 30 June 2009
As summer arrived and air temperatures reached the mid twenties Celsius the water temperature has also shot up in a few days to around 22 degrees c . A few fish around the Turriff area have been reported but the lower river continues to struggle. Higher beats had some sport at the beginning of last week on the back of the rise in levels the previous weeks with sea-liced fish reported off several beats. A few grilse have put in an appearance but some have the bleeding vent again. Can I encourage anglers to take some scales if they get one with a red vent, and hand them to the gillie . This allows the scientists to see if they have had poor feeding at sea , once again. There are a lot more sea-trout about than in past years but the are difficult to tempt in the hot water. It looks like we may have to wait into the weekend to get some cooler weather which hopefully might tempt a few more fish to run the river.
Update 23 June 2009
Thursday saw levels peak around 3 foot above normal and the day was a washout. Friday saw levels down to + 7 inches falling to +4 by evening and many beats reported a few sea-trout and the odd grilse. By Saturday we were up again to +10 inches and very peaty. Again a few sea-trout were reported and G McBride landed an 18 lb salmon off Mountblairy. Young master Dempster out fishing a small telescopic rod in the high water landed a 20 lb Salmon off Dunlugas under guidance from his Dad the Gillie .By Monday we were down to just below normal and a few salmon and sea-trout were reported around Turriff and some sea-liced fish were reported from high up the river. Today Tuesday we saw a couple of inches go on levels during the morning but the river is still peaty and this put a lot of the fish down. Obviously we would want this to clear out but as levels are back to being low again and water temperatures over 15 degrees c any clearance would probably equal even lower levels and algae growth.
Update 17 June 2009
Reports received show a reasonable amount of salmon taken on Friday 12 June- mainly from upper beats to 15 lb. Saturday saw Forglen take a few sea-trout whilst Upper Netherdale saw Mr. Colman take a sea-trout and a salmon to 12lb. Heavy rain on Saturday morning and Thunder and Lightning Saturday evening saw the river at 1' 6" and dirty on Sunday. Monday saw this open at plus six inches but heavy rain upstream saw levels at 1 foot above by evening. However many a beat from Turriff down caught a few sea-trout all around the 3 lb mark and reports of a couple of grilse also came from a lower beat. Tuesday saw levels at plus seven and dropping. Once again lower beats did well with sea-trout and U/Netherdale saw 2 salmon and two sea-trout with a few sea-trout lost . Forglen Landed 6 sea-trout, whilst today Wednesday Forglen have seen 5 sea-trout and a salmon landed with a salmon and several sea-trout lost. Turriff Angling Assoc. saw a salmon at 7lb returned in the morning. All day today we have seen torrential rain . The river is rising slowly but I would expect it to be bank full Thursday. Hopefully this will not harm our sea-trout fishing which is looking pretty reasonable so far. Most beats have double figures in the book which is far more than they had last year for the season.
I have two weekly rods at Forglen next week and two at Dunlugas. Daily rods will be available at Turriff , Castle Water Huntly and Euchrie.
The following week I have one rod at Forglen and three at Marnoch Lodge. There are still weeks available at Waterside and Ferry Cottage - w/c 28 June . 19 July and 26 July.
Update 12 June 2009.
Levels dropped away at the end of May but a few fish were still around. I Masson had two sea-trout and lost several for his afternoon at Muiresk on the 28th and R Miller had a sea-trout of around 6 lb off Kinnairdy on the 29th. The Friday saw the start of the hot temperatures and with them reaching 25 degrees and the sun shining brightly levels dropped away and only a few sea-trout were reported late at night. The water temperature reached 18 degrees but a few salmon were running and a sea-liced fish came off Marnoch Lodge in -3 inches of water. Lower beats reported a few sea-trout and heavy rain showers on the 5 th June saw levels up 3 inches to Normal by the Saturday and Avochie reported four salmon. Levels dropped away again for week of June 8 but sea-trout continued to be caught and were around the 4 lb mark. Muiresk, Forglen and U/Netherdale all reported 5 or six up until Wednesday. Thursday saw the river up to + 10 inches and a few fish stirred. U/Netherdale saw 3 sea-trout in 20 mins to W Smith and R Thomson had two salmon at 14 and 8lb. Today Friday the river has coloured up but dropped to +1 inches. Two salmon 9lb sea-liced and 10 lb fell to Mr. King, G Noble had a sea-trout and lost two salmon and F Watt had a sea-trout all at U /Netherdale and Carnousie Friday am. No doubt a few more reports will filter in over the weekend and it is very encouraging to see a good few sea-trout on the go.
Update 27 May 2009
Levels reached 1ft above normal on the Friday and it was very dirty. By Saturday it was down to +5. Fish continued to come off Huntly with a 15 lb fish reported and Upper Netherdale saw T Lawson take a sea-trout and R Vasey reported a 12lb fish from an upper beat. D Reid took three brown trout at 4.5,2.5 and 2lb off Scatterty- all returned. Monday 25 May saw levels open at +1 inch and Mountblairy saw a 3.5 lb sea-trout returned , whilst Marnoch Lodge reported a 7lb salmon, a sea-trout of around 2.5 lb and two brown trout at 5.5 lb and 4.5 lb. T Lawson again struck lucky at Upper Netherdale with several salmon . Heavy overnight rain saw levels open at + 6 inches and rise slowly all day to reach +9 inches by 6 pm. Although dirty the Richardson party at Upper Netherdale reported salmon and sea-trout at 8and 2lb. The Bradford Party report salmon and sea-trout at Laithers for the first part of their week and Forglen a sea-trout. Levels are falling away today and clearing out but it is very windy. Let us hope with a few-sea trout about that we get a decent run of them this year.
Update 21 May 2009
Levels dropped away to around -3 inches and the bottom became covered in slimy weed on rocks and algae in the calmer margins. A few fish came off the middle river some even sea-liced but it became a struggle in the lower water. R Paterson took a sea-trout at Dunlugas on Friday and heavy rain late Friday and overnight saw levels on Saturday up to Normal level. Levels climbed steadily all day and all the rubbish came with it and it was unfishable by late pm. Levels reached just over one foot but not enough to flush all the weed and algae out. Monday saw some fish come off the middle river as levels were at + 6 inches. S Raeburn took a lovely clean fish off Huntly at 14 lb and as heavy showers on Tuesday and Wednesday saw levels up each morning to fall away during the day Avochie saw two around 8lb to B Parkin and I Masson. Heavy Thunder showers sees the river rising and turning dirty this evening. This might encourage a few of the sea-trout that have been seen on the lower River to move .
There are still fishings and accommodation available at Dunlugas and Forglen in June. The Wrack will have some availability w/c 19 July and 1-6 June.
Turtory will have rods in June and a cottage if required. Marnoch Lodge has availability for 4 rods right through the season- even in September and October this year.
Also available is Waterside Lodge at Upper Netherdale and Carnousie w/c 26 June , 12 July and 30 August( 18 fish average week) Ferry Cottage on the same beat has availability on 7 June, 19 July, 26 July, 4 October and 11 October. These October weeks have a 3 year average of 28 and 20 fish per week. The prices are also held for next year as well. How many chances are there to get on the Deveron in October ???
If interested in any of the above give me a call on 01888 562428.
Update 12 May 2009
Despite levels dropping away to -3 inches sea-liced salmon are being caught as far up as Avochie. Friday and Saturday last week saw Avochie land one fish and three were lost at the net. One of these was covered in sea-lice. R Henderson returned an 8lb sea-liced fish at Upper Netherdale and landed a brown trout at 2.5 lb. K Barron also had two brown trout at 2 and 3 lb. Today Tuesday continues to be dry and sunny although the wind is chilly and we have been having frosts at night so water temperatures are still low. A sea-liced fish came off above Turriff on Monday so they are still pushing through. I have just heard from Alan Bruce at Montcoffer and a Mr. Lewis has landed four salmon to 12 lb today- all sea-liced and a sea-trout at 7lb.
I also have w/c 6 July for two rods and a cottage at Montcoffer cost £1140.
Also reduced rates up -until 14 June at Upper Netherdale and Carnousie- with conditions attached - please call if interested.
Finally - 1 rod at Forglen available w/c 27 July 2009.
Update 6 May 2009
Contrary to the announcement from the ASFB in the press over the weekend, about the lack of Spring Salmon in Scotland- THE DEVERON HAS HAD A GREAT START TO THE SEASON AND HAS BUCKED THE TREND ON OTHER RIVERS. We have now had over 100 fish and we are up there with one of the best starts in the last 15 years. Many other rivers are poor this year and we must try and conserve the spring run. If we can build this stock then we all stand a chance of being able to catch one in the future.
Heavy rain showers on Sunday 26 Brought up levels at Turriff by 5 inches. This did the trick as a couple of sea-liced fish fell to R Breakell and S Baird on the Monday. Levels tailed away again to normal level very quickly and despite groans of lack of water I know of at least another seven fish off the river from Rothiemay to the Wrack so they are still there. This week Upper Netherdale kicked off with a 9lb fish on Monday and heavy rain on Tuesday has given us at least 4 inches of a rise today and early reports have Turriff Angling club down for a 10 lb fish this morning. There is still availability on Day tickets for another few weeks and the river offers an excellent chance of a fish in May.
Update 26 April 2009
The river levels have tailed away from +4 inches to just below normal this week. There is no real rain forecast for the week ahead-but are they ever right?. We certainly had heavy thunder showers with hail today up river and towards the coast although Turriff remained fairly dry. There may be a change in levels by the morning. The river remains a chilly 8 degrees C.
Marnoch Lodge reported a brown trout of 8.5 lb on fly Wednesday 15 April and a few fish came off the Netherdales and Carnousie. Whilst Turriff , Euchrie and Muiresk also reported fish to 11lb on the Saturday. Into the new week of the 20th and with levels dropping we have begun to struggle although sea-trout have come off Forglen and The Wrack this week. Another large brown-trout of 5.5 lb came off Dunlugas and a few salmon were reported from a beat up river of Turriff. Some of these were sea-liced so they are still running and Mr. A Bruce at Montcoffer reports clean fish running off the tides through his beat. We are now up to over 80 fish so far and May can give us at least double that if we are fortunate so things are looking well. May I remind you that a side of Smoked Salmon from Sutherlands at Portsoy is available through the Trust for all salmon returned to the river. If you return one or have done already and not claimed then I can put you in touch with the person who will deal with it for you if you contact me.
Update 15 April 2009
Wednesday April 8 saw heavy rain and gales. This resulted in levels rising 13 inches on Thursday and levels opened at 1' 6". However they were fairly clear and by Friday we were down to 9 inches and by today April 15 we are at + 2 ". However the fish are there in numbers and most beats seem to be getting amongst them. Marnoch Lodge has landed six since Wednesday 8 April all about the 8 lb mark. Avochie saw one on Thursday and two on Saturday. Forglen produced Friday and Saturday and U/Netherdale landed at least three and Muiresk had a 14 lb fish returned on Wednesday.
It is also of interest to note that a few early sea-trout have been caught down river. There are still daily tickets available until end of May and I also have weeks available in June at Dunlugas and Forglen as well as Marnoch Lodge and Upper Netherdale and Carnousie.
Update 8 April 2009
Avochie produced its first fish of the season on 25 March (late for them) at 8lb to I Masson. Levels were up a few inches by the Thursday and another fish was caught and returned at Forglen on the Friday. Heavy rain Friday pm saw the river at 4 feet and rising on Saturday but at least one fish came off the river. By the Monday we were down to 1 foot nine inches above normal and two sea-liced fish came off a lower beat and one was lost at Forglen on the Tuesday. The rest of the week went a bit quiet and levels dropped away to open at plus six inches on Monday 6 April. A few fish were reported around Turriff on Monday and Tuesday - the pick of which was a 19.5 lb sea-liced fish to L Stewart off the Turriff Angling Association. All in all we are well over the 40 mark which is a great start. Lets hope we get a decent run this month and with more rain forecast and high tides expected we should have plenty of water.
Update 25 March 2009
We really are having a great start . More fish have come off Forglen , Montcoffer , Mountblairy, Muiresk and upper and Lower Netherdale since my last report. Water levels had bottomed out at around plus 4 inches but snow and rain had levels at one foot nine on Tuesday and down to one foot above today. More rain is forecast with snow on the hills over the rest of this week.
Just a reminder that there are still weeks available in June through to September on excellent beats including Avochie , Dunlugas , Forglen and Upper Netherdale and Carnousie. Most include accommodation and to be honest some cracking weeks are available at the back end at Upper Netherdale.
STOP PRESS.
Upper Netherdale and Carnousie have for offer early weeks in the Spring Time . These weeks will include four rods and self catering accommodation as per normal but the services of a gillie will not be included . These weeks will carry a discount for the reduced service . Please give me a call for further details and conditions.
Update 17 March 2009
Levels are now dropping away and today stand gin clear at +6 inches. Another six fish have been reported all again coming off the middle river at Forglen, Mountblairy and L/Netherdale. In an effort to preserve the spring run some beats have now gone catch and release , as with now over 20 fish caught in the last two weeks we are having the best start to a season certainly in the last 7 years .
There is still a side of smoked salmon on offer from Sutherlands at Portsoy to all anglers who return a fish and five have been given out so far.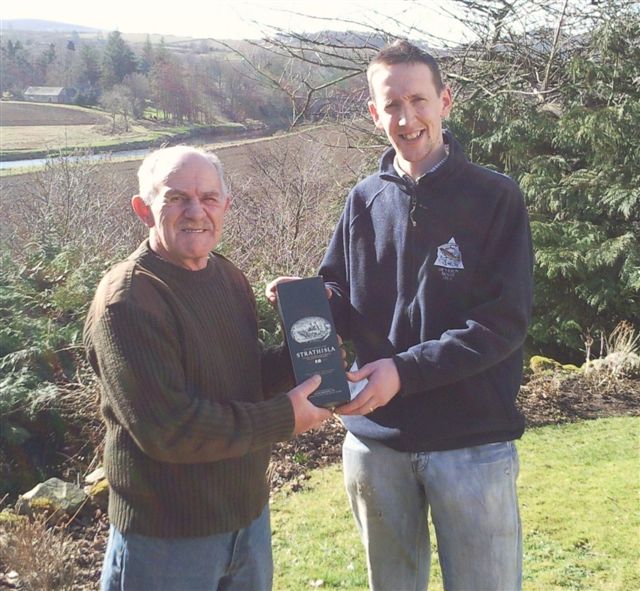 Jim Smith on the left receives the bottle of StrathIsla Malt for returning the first Springer to the river in 2009. He also receives a side of smoked Salmon.
Update 10 March 2009
Levels have held around the 1-1' 6" above normal and on the odd occasion heavy rain has coloured things up. However since the 25 February we have had at least another 10 fish reported. Most are around the 6-8lb mark with one at 13 lb. They are all coming off beats between Netherdale and Mountblairy although a sea-liced specimen did come off Montcoffer. The number of kelts have been prolific and anglers have usually encountered something to make their day.
There are some available weeks for let in September and October which have just become available. Please give me a call if you are interested.
Update 26 February 2009.
Well our winter weather went in a flash. A flash flood. Monday 16 February saw milder temperatures, rain and wind. I set off to fish the Spey knowing full well it would be high and useless. As I drove to Rothes via Huntly and Keith the roads were beginning to flood. I fished for 2 Hours and then came home at lunchtime. I came home via Dufftown and Glass, the headwaters of the Deveron.
Dufftown had over 18 inches of snow - however as I drove through the village it was all gone. and the hills were now green as I drove along the Deveron. We started the morning at about 1 foot on the gauge and peaked around 10.30 pm at 12 foot 6 inches at Turriff.
This amount of water will have damaged redds and river banks- so not a great start to 2009.
This week has seen levels settle down to 2 feet and dropping. I have heard of three fish this week. Unconfirmed reports of a 14 lb fish at Mountblairy on Tuesday to R Walker. This may be the first off the river. Another 10lb fish returned from the Marnoch area on Wednesday and R Ewen had an 8lb fish off Forglen covered in sea-lice on Wednesday.
If levels hold around a foot and the weather stays fair it will hopefully encourage a few more anglers out, now that they know the fish are around. There are some fantastic dates available for let on the lettings page check them out here. Letting Availability
Update 20 January 2009
Weekly lets during 2009.
I have reduced rates for Upper Netherdale and Carnousie up until May. Ferry Cottage would be ideal for those wishing to perhaps trout fish with the hope of maybe encountering a spring Salmon. If interested please give me a call for the rates based on 4 rods. Offer Letters for 2009 to those who fished here during the last season will soon be on their way.
Please check the letting availability page for anything else available or give me a call to put your name down should anything come available. Marnoch Lodge is now available again in 2009 for three daily rods and all your other favourite beats are still available.
Update 11 February 2009.
Opening day finally arrived. We experienced tropical temperatures of -2 degrees C after Monday at -17 and Tuesday at -10. We had a fresh fall of snow overnight and the river was iced over in places . Levels opened at +8 inches but the river was mighty cold. A few hardy soles ventured out providing access roads were open but it was very cold with further snow showers in the afternoon.
Once again Malcolm Hay the River Board Chairman did the honours' at the opening ceremony at Huntly.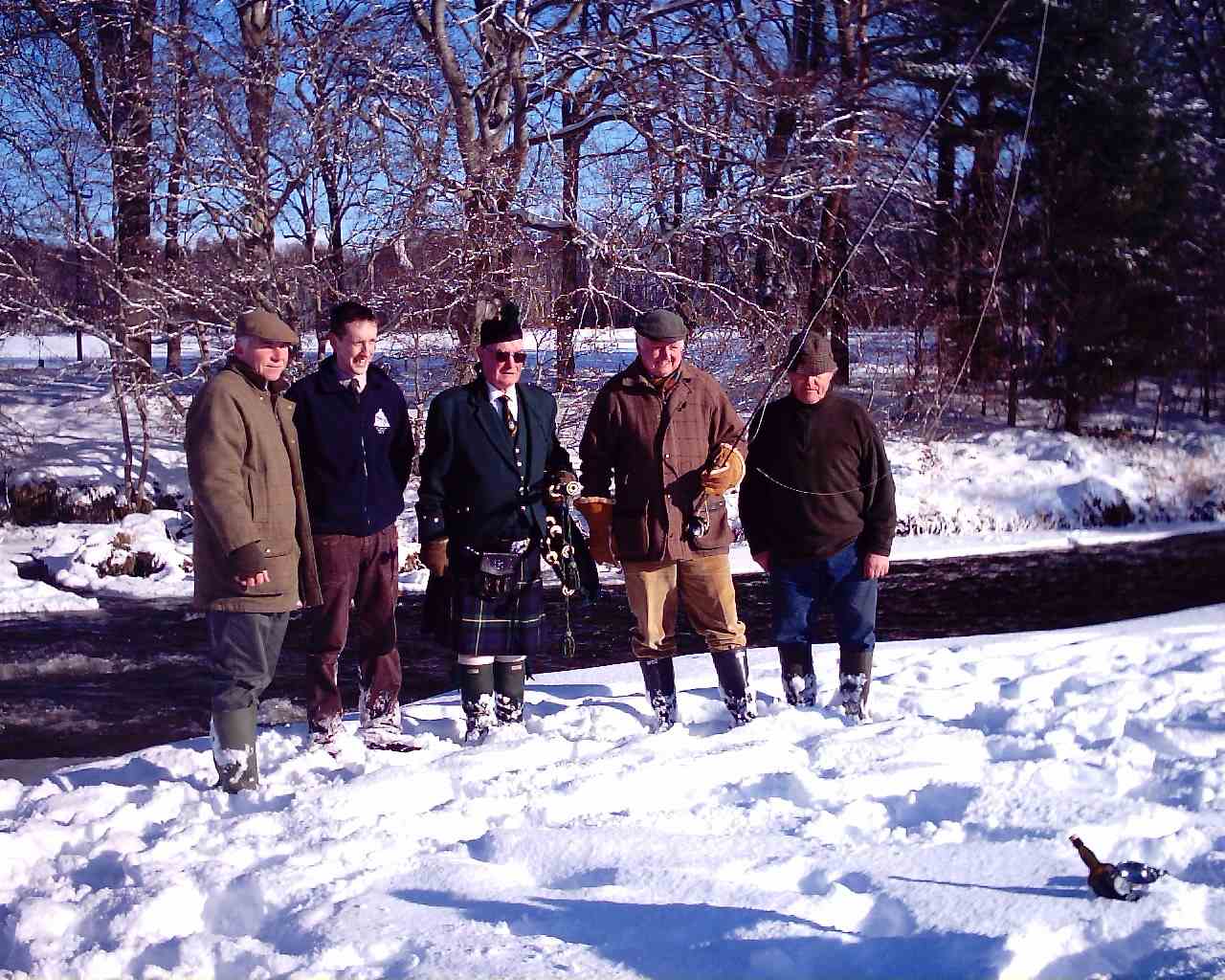 The opening ceremony 2009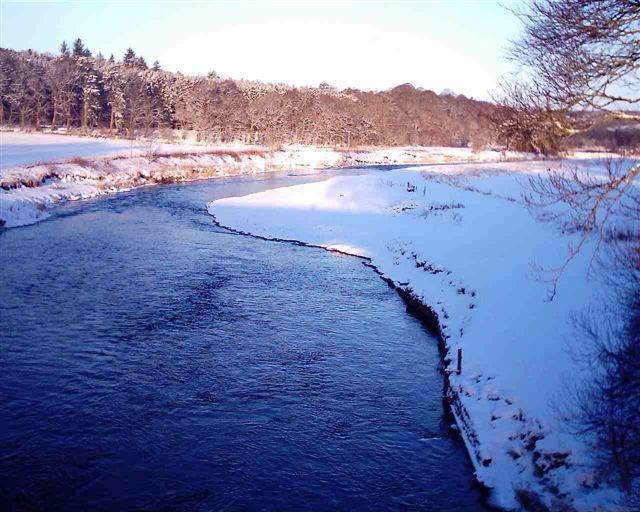 The river at Turriff above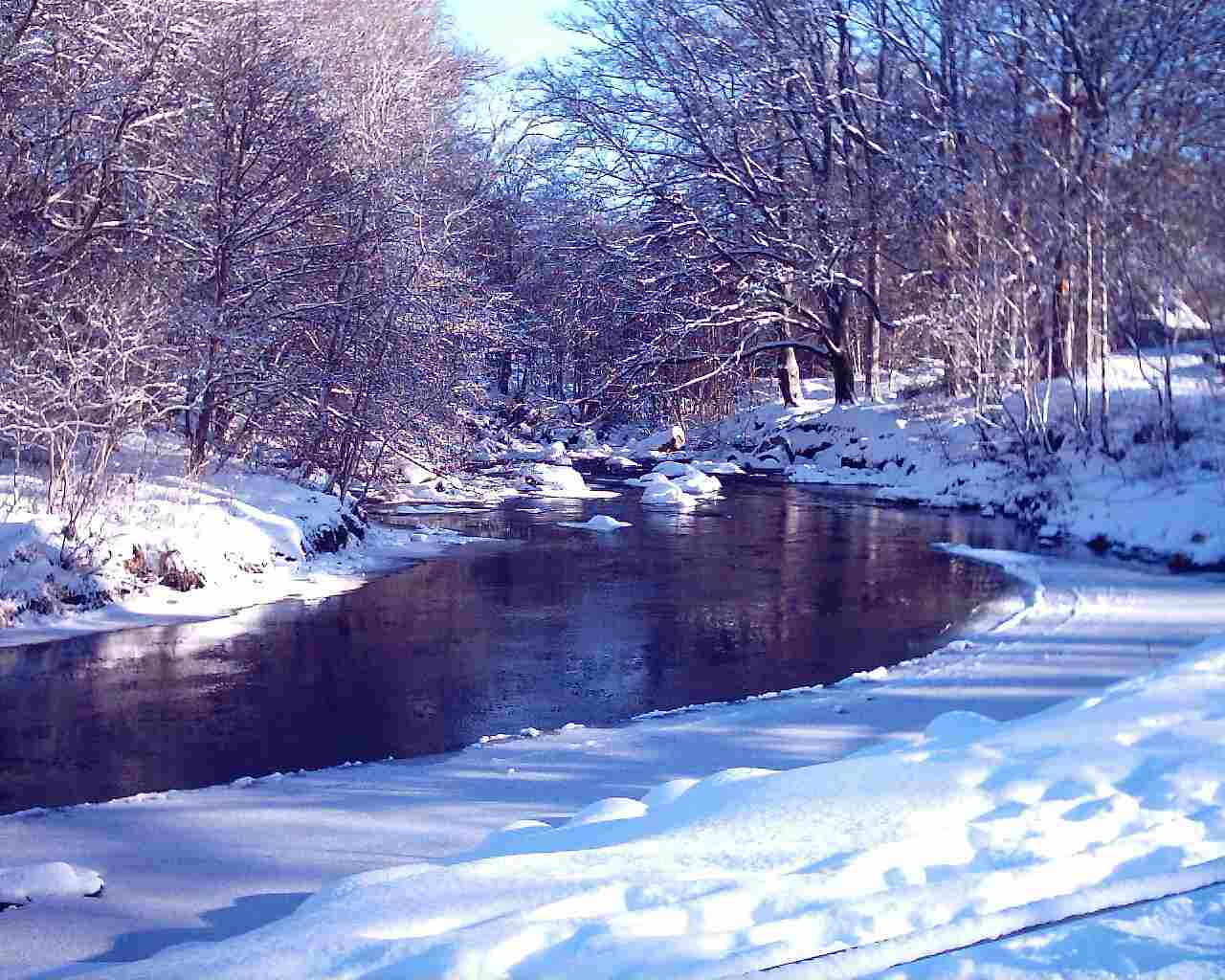 The Deveron at Huntly - reduced in width with the ice.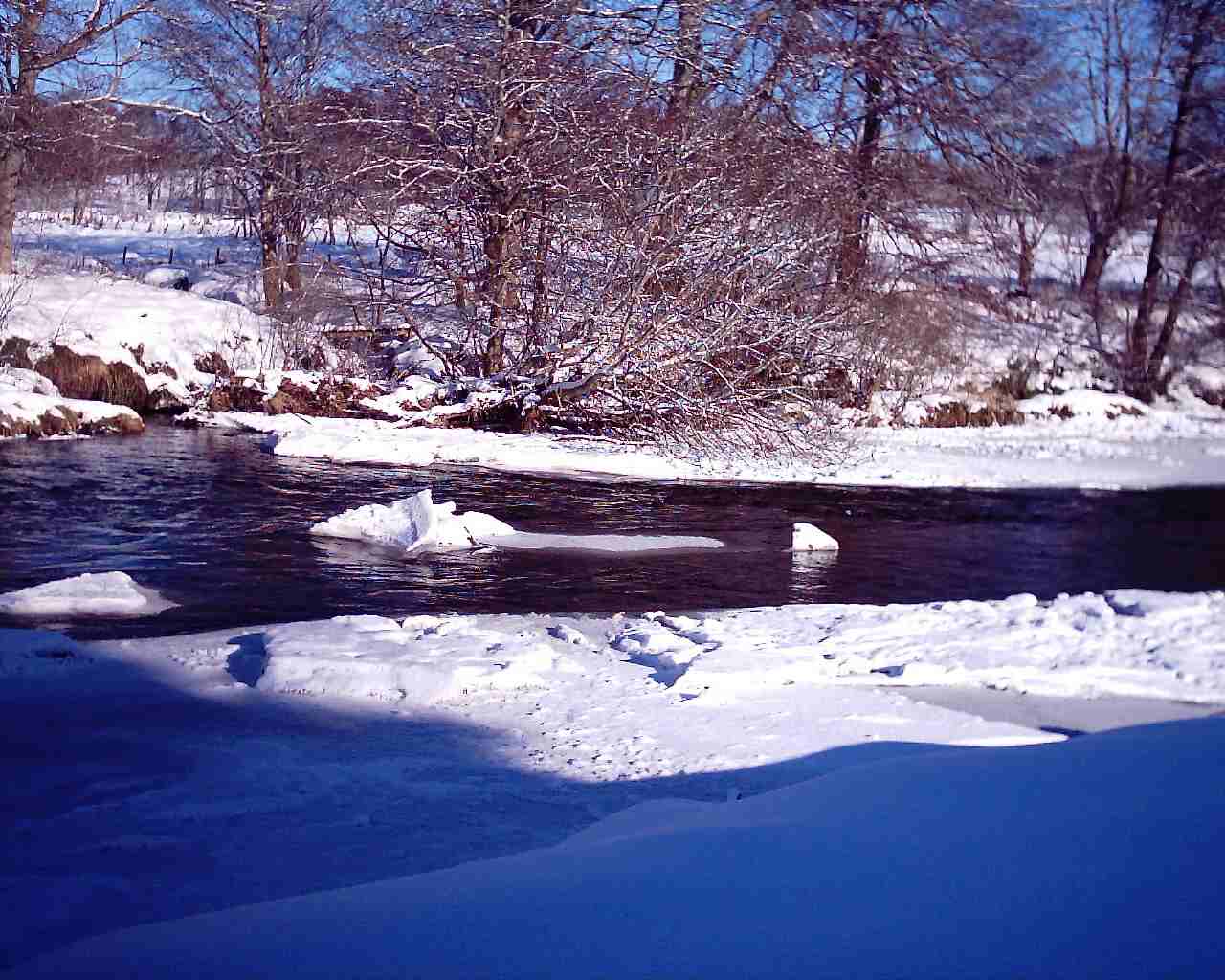 Ice bergs in the river at Huntly.11 February 2009.