River Information 2012
Information on river conditions, catches etc.
What's New:
Letting Updates
Lets now going up for 2013 season.
Click on the above link to download the GS Anglers Declaration Form
Current News
Turriff Bridge Webcam

The Webcam located at the Turriff bridge is now live. To view either click here ,or click the 'Turriff Bridge' icon in the Webcam section.
Welcome to 2012

Salmon and Sea-trout season- 11 February 2012 to 31 October inclusive.
Brown trout season 15 March to 6 October Inclusive.
NEW FOR 2012

CASTING INSTRUCTION

We can now offer tuition to anglers on a one to one or group basis from a fully qualified instructor.

Learn to Spey cast, cover that spot where fish are -but is always just out of reach or just brush up on your skills.
We can arrange it for you or if your beat gillie has no objections it can be done on your beat at a time to suit you.
Please ring Frank on 01888 562428 to book a slot- it will improve your "luck"
We can also provide shooting instruction for both rifle and shotgun- again from a fully qualified instructor- again contact us if interested.
We have some interesting developments in this area so keep looking back for the exciting news -hopefully around March/April time.
Follow Us On
Update 30 November 2012

Monday 22 opened with levels at around 6-8 inches and peaty. R Breakell landed two fish of 8lb and 10lb sea-liced. E Corry from Ireland also landed a fish at Turriff. Levels remained around 6 inches until Friday and beats from Turriff up landed fish but lower beats struggled. J Noriss landed a 13 lb fish at Lower Netherdale and I have reports of another off that beat at 20lb.
We had snow on Friday 26 and levels were up a couple of inches on Saturday.
The last three days were mainly given over to guests on most beats- but Monday saw the river at two and a half feet above normal and very black. Very few fish were caught and plenty anglers complaining. Tuesday saw levels down around a foot but the colour was odd and although a few more fish were seen it was poor for the time of year and water levels. The last day saw levels around a foot and the colour was perfect. A few more fish were taken up and down the river but most were stale and as the weather closed in around lunchtime a miserable season end was reflected in the weather.

Keep up to date with our new stock and news over the close season by visiting our facebook page.
There are some changes to some beats for 2013 with improved access and we are now just starting to look at lets for 2013- so if you are interested in something give me a shout so as I can get your name on the list.
Update 22 October 2012

I have reports of a couple of fish at 24lb sea-liced and one at 30lb from above Marnoch Bridge in the last two weeks.
As our last spate ran off on Sunday October 14 things looked great for Monday. Unfortunately the river was rising in the hills and we even had some sleet and hail. This saw the river rise to three and a half feet and it was very dirty. Tuesday saw levels at 2 feet 2 inches and quite dark. This dropped to 1 foot 6 inches by 5pm. Turriff had a good day with numbers well into double figures , with the best individual catch of 4 for the day. Upper Netherdale and Carnousie landed a fish at 18lb and fly anglers using s1/s2 and Skagit lines hooked lost and landed a few fish on the fly with the best result being 6 to 18lb to one rod.
Levels continued to drop away to a foot on Wednesday and beats from Forglen up worked away. Thursday saw levels on the rise again to two feet and dirty. Levels were down to around one foot six inches on Friday but the river was dirty below the Isla- although fish were caught. Saturday saw levels around a foot and again fish came off most upper beats.
As reported earlier- beats above Turriff have done well and beats below have struggled to even see a fish in some cases. Marnoch Lodge landed 16 by Friday- 13 on the fly and in contrast a Lower beat landed 5.
There are some sea-liced fish running as some were caught at Turriff and Avochie saw fresh grilse- so they are running hard . Most fish caught are coloured and may be fish spreading out to spawn. There are not many fresh fish running – and perhaps like last year November will see a run of clean fish.
Levels have opened this week around 6-8 inches with a tinge of Peat stain. Early reports indicate a few fish off above Turriff but not much activity between Turriff and Banff.
Update 13 October 2012

Saturday 29 September saw a fair few fish off as levels were around plus 5 inches. G Barron had three at Upper Netherdale to 13lb and M Ewen Snr. and Jnr. also had a couple of fish each and Mountblairy landed six to 14lb. Monday 1st October saw levels at 3-4 inches above normal and another reasonable day with J Gardner taking a 15lb fish off Turriff and R Breakell having 4 to 12lb further up river. The rest of the week slowed down and there were plenty fish running and showing but little caught- despite a few inches of a rise on Thursday.
The lower river continued to be bereft of fish and they were not being seen running through these beats either- whilst from Turriff up they were showing.
Monday October 8 saw levels at 2 inches and again a few fish came off upper beats Inc. a 29lb fish at Upper Netherdale to C Wyness (photo can be seen if you click on our Facebook page.)
Tuesday saw J Anderson and R Breakell land three each to 14lb but by Wednesday things slowed and as the river approached its second lowest level since March- the heavens opened on Friday- although not as drastic as forecast. This has given us around 4ft today Saturday October 13 and should see us set up for the remainder of the season.

In the shop the Swedish brand Pinewood has arrived with Mouflon suits and Ontario Waterproof fleeces now in stock. Our full range of Shooting stuff will be out on display once the fishing season ends.
In conjunction with Waulkmill Clays we are running a Team Flush over the Winter with an accumulating prize fund to be won. If you have a look on our YouTube page we have some films of last Sunday.
Waulkmill is open every second Sunday with the next date being the 21 October. We also have a shooting instructor available for lessons- either clay or game shooting and a gun fitting service will be up and running sometime in November and will be ran in the shop on selected Thursday late night openings. Keep looking back for dates and keep up to date with twitter.
Update 29 September 2012

A hard couple of weeks for contrasting reasons. Last week levels remained low and despite a few sea-liced fish running off the 4 metre tides it was tough going and a few beats blanked whilst neighbours did ok. Biggest fish I heard of came off Muiresk at just over 20lb. This week saw low levels on Monday and Tuesday. Tuesday saw 70mph gales but despite this a few fish came off to fly fishers. Rain around Turriff was steady but not severe- however the catchment thankfully caught heavier stuff and by Wednesday we were on the rise and this peaked around 5 and a half feet overnight Wednesday into Thursday.
Thursday was a wash out at nearly 4 feet but Thursday faired better. Friday saw the river very black but levels have dropped to around plus 7 inches today (Saturday). Thursday saw sea-liced fish off many beats but it was slower on Friday. The cry now seems to be plenty of fish but not looking at anything. These fish have obviously been waiting the last 3-4 weeks in the bay and are in a hurry to get to the spawning areas. Let us hope that things settle a wee bit and the fish coming in the next few weeks are not in such a hurry.

Rapalas are still in short supply and back orders due 9 September have still not arrived. There are only two new colours for next year- but not sure of any discontinuations apart from the blue and silver in Countdowns and original floaters.
Eley Clay cartridges at the offer price of £168 for fibre have all gone and a new order will be placed. Game cartridges are in stock and some 12 gauge shotguns brand new for £600-£800 are in stock from Huglo and Hatsan. Escort Semi – Autos are due in the country late October and hopefully we should see some early November. Also awaiting delivery from Sweden are Muflon Jackets and Trousers from Pinewood Clothing along with some waterproof fleeces.
Our shooting instructor is available for lessons either for clays or available to accompany you on your driven days to improve your shooting. Again November should see the arrival of our fully adjustable Remington semi- auto for a proper gun fitting service and lessons for beginners.
Update 8 September 2012

This week has seen water levels fall away fast with bright hot days and a fair breeze blowing. There would appear to be plenty grilse around 3-4lb in the middle to lower beats but tempting them is very hard. Most beats are struggling to get off the mark this week after being well into double figures last week. Salmon have still been tempted to 14lb and even if only the odd one or two have come off some beats it has made half the total.
There is one rod available at Eden next week on Wed, Thurs ,Friday and Saturday and 2 rods remaining for 3 days on Mountblairy 29,30 and 31st October. We also have week 16 Sept at Upper Netherdale for up to 4 rods and the cottage if required and a cancellation at Waterside for week 23 Sept. In October we also have Ferry Cottage for the last full week – 4 rods and the cottage , as well as the last three days, on both beats with or without Accommodation- so 8 rods in total.
Update 25 August 2012

Levels ran around 3-4 inches for the remainder of week 6 August. Most Lower beats saw 8-10 fish caught for the week and middle to upper beats faired better with some between 20 and 30 for the week.
Monday 13 saw levels at plus 2 inches and grilse came off the length of the river. Heavy rain and earth works saw the river unfishable below the Turriff Burn on Tuesday and up to plus 6 inches but above this it continued to fish well. Wednesday saw levels down to plus 4 inches and the lower river had a better day and fish were reported to 15lb. Some coloured but many sea-liced. Thursday saw levels up again and rising by 11 inches during the day. Friday saw levels down to plus 6 inches and another reasonable day was had all round. Saturday saw levels up again to 9 inches and peaty. By evening this turned very black and put the fish off completely. With the levels up and down daily fish never settled and some beats did ok and others really struggled.

Week of 20 August has been the same with levels up and down after heavy showers and after heavy showers all afternoon Friday the river is up to nearly 2 feet and dirty Saturday morning.
Fish continue to come off to 17lb but again higher beats have been more consistent with catches as fish continue to run quickly through the lower to middle beats. The forecast for Sunday is dry but rain for Monday .

We still have 4 rods and Ferry Cottage in September week 16th and a cancellation for week 23 September at Waterside Lodge Sleeping 12 and fishing 4 rods on Upper Netherdale and Carnousie. These beats have fished well so far this season with the middle beat showing catches over 150 salmon so far. Please ring if interested. Also 2 rods through September and now October at the Castle Water Huntly.

Cartridges are in for the season and Eley clay cartridges are on special offer at £168 per thousand for fibre wad 7.5 28gram and £165 for the plastic wad.2 Shotguns in stock start at £620 – new with a 3 year warranty and a display model Beretta Silver Pigeon 111 28" barrels with multi chokes on offer at £1950. We also have a Huglo 410 shotgun over and under with single trigger and an ejector brand new at £555. Game bags and Cartridge bags also now in but will not be on display until November due to lack of space – so ask if you want something and Pinewood outdoor clothing will supplement the Deerhunter range this season.
Update 7 August 2012

Levels have held up well over the last two weeks at around plus 4 inches with a few rises to 9 inches and a flash rise yesterday of 9-12 inches depending on where you were.
With this level of water the higher beats have done very well with beats well into the twenties for returns each week. Lower beats have struggled a wee bit but are still managing to post something on a daily basis. Plenty fish are being seen running through and many of the fish caught are sea-liced and in the teens of pounds.
I still have two weeks at Ferry Cottage with 4 rods in September and October. These beats are fishing very well with one well over a hundred so far for the season.
Update 23 July 2012

Another decent week with most beats having a few fish. Monday saw levels open around 11 inches but it went up by about 4 inches during the day. However fish came off the length of the river.
Tuesday saw the catches continue with again most beats on the score sheet. Wednesday saw it rain all day and Thursday saw levels rise two feet to around three feet. This halted the catches on the lower beats but upper beats continued to catch fish to 14lb. Friday and Saturday fished very well with many sea-liced fish coming off from Wrack to Huntly.
Grilse have put in an appearance already this year and although some are skinny from 3lb to 6lb they are decent fish.

We have had beats catching 13-40 fish a week for the last few weeks- and this has been on day tickets for some. Upper Netherdale has had Ferry Cottage empty and performed really well. As a result there is availability for 2013 which can be preliminary booked NOW. Forglen has rods left this week and Muiresk had rods last week .
Wrack has a cancellation next week for three rods , Ferry Cottage at Upper Netherdale has availability in August and the last full week of the year and Waterside Lodge and Ferry Cottage now have the last three days of the season with accommodation available. Marnoch Lodge has availability through September and given water this has been fishing exceptionally well this year. If interested give me a call.
Update 16 July 2012

What a week for some. Levels opened on Monday 9 July at just under three feet and a few fish came off up and Down , Avochie reported two salmon and 2 sea-trout and Wrack posted fish of 15 and 21 lb.
By Tuesday more fish were coming off as levels dropped and sea-liced fish were recorded from Avochie up. Wednesday saw the river rising and it dampened catches as it hit three feet again. Mountblairy and Dunlugas landed a few. Thursday saw things come alive above Turriff with Upper Netherdale and Carnousie doing well with fish to 17lb and Marnoch Lodge having a fantastic time. This continued on Friday and again into Saturday. Marnoch Lodge and Upper Netherdale were well into the thirties in number and both beats lost big fish at the bank after 45 mins. Heavy showers over Sunday have kept levels up at around one foot as we enter another week and prospects look fantastic.

I have Weekly rods available at Forglen next week and the Wrack the week after. I also have Marnoch Lodge with the Coach House in September and even A full week with 4 rods left and Ferry Cottage at Upper Netherdale and Carnousie for the last full week of October. All these beats are fishing extremely well this year.
Update 6 July 2012

Middle beats have had a fantastic time on the higher levels. The river fined down all last week and sea-liced fish were abundant on all beats above Marnoch with fish reported to 20lb. Lower beats struggled a bit but Dunlugas hit it sweet and the sea-trout numbers were well into double figures. This week has seen a repeat as levels were peaty and around the 5 inch above normal mark. Forglen saw fish of 18 and 19lb and Wrack reported fish to 15lb. Avochie had fish of 7lb , 9lb and 13 lb on Tuesday – all sea-liced . As Levels drop and clear most lower beats are picking up a few sea-trout and salmon .
We have availability next week for day rods and I have 3 weekly rods on Wrack beat week 15 July due to a cancellation.
In the shop we are awaiting a delivery of Eley First 12 gauge 28gram fibre 7.5 shot cartridges at a special rate of £160 per thousand. Some of of the order is already spoken for so ring if you want some set aside for you.
Update 28 June 2012

Now in stock Co2 powered .177 BB Kalashnikov full size replica along with a range of soft air bb Guns and ammunition.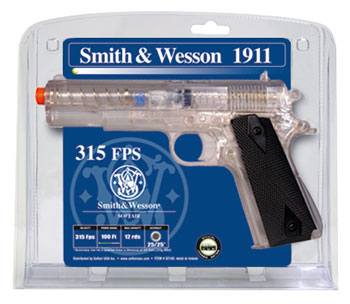 Air rifles continue to sell faster than we can keep stock but a reasonable stock on the shelf with Gamo Whisper X in .22 arriving today.

GMK have run out of Sako .17hmr Quads – but we have one left on the shelf and still have a great deal on Savage Axis 243 to include a Kaspa 3-12x 50 scope and weaver mounts.
Update 25 June 2012

Since the last update we have had nothing but rain- although nothing like the south. Tuesday 19 saw levels rise to around a foot and drop back on Wednesday and Thursday but with heavy rain overnight levels reached over three foot on Friday , dropped a couple of feet for Saturday but went up during the day and despite a forecast for drier weather we had rain yesterday and levels are around 2 feet 6 inches today. However fish are coming off and F Deline from France had a reasonable week with salmon and sea-trout off Avochie and Upper Netherdale and Carnousie whilst Forglen returned sea-trout and salmon to 18lb.

With decent water levels and fish in the whole system there is still fishing available. Muiresk has three rods week 16 July and week 6 August , Upper Netherdale and Carnousie has Ferry Cottage available through July and August and have week 30 September available- a prime week. Forglen has rods on week 2 July and two rods week 23 July.
Update 19 June 2012

The first few days in June saw very little action but on the 6th we had heavy rain all day which saw us with a rise of 14 inches through Thursday. This saw Eden round off the week with 6 Salmon and 12 sea-trout. Monday 11th saw a flurry of activity on Monday with several small fish caught as well as some sea-trout. Best fish reported was 11lb with one lost well over 20lb. A few more fish around 8lb were reported up and down the river for the rest of the week but in general fairly slow. This week has seen a few fish off on Monday, again on the small side – some were coloured and some were sea-liced so they are still running the river. Temperatures have been cold at 8 degrees c max during the day so the sea-trout fishing at night has been poor- and so far there does not seem to be a great run. Heavy rain well up the catchment yesterday has seen us reach 12 inches above normal today and we continue to see heavy showers. Hopefully this will not disperse any sea-trout and perhaps encourage some more salmon to enter the system.
Update 4 June 2012

Week of 14 May was fantastic. Plenty of fish to 21 lb and some anglers were catching 2 or more in a day with some catching 4-5 in a couple of days.
These fish were spread throughout the whole river and it was more like back end fishing than spring fishing. Levels were around 7 inches until Saturday May 19 when they went up to one foot eight inches- but the fish were still caught.
Monday May 21 saw levels at seven inches again and two salmon at 20 and 24 came to one angler and a 4lb sea-trout to another. As Temperatures began to rise the fish went off the take – but with temps of 27 degrees and non stop sunshine Eden landed an 11 lb sea-trout. A few fish continued to be caught despite the weather but it was much much slower than the week before as Temps peaked at 30 degrees C on the Sunday. In contrast Monday 28 May saw temperatures plummet to 10 degrees and the fish came back on the take- with multiple catches again for lucky anglers with several managing 2 or 3 and one managing 5 to 17lb before 11 am on Tuesday.
Levels are hovering around normal to two inches and fish continue to come off from Marnoch to Banff in reasonable numbers to 15lb. A few sea-trout are around in the lower river along with some big salmon but the upper river is suffering a wee bit from lack of water.
Update 31 May 2012

UDN Information
click here to download the PDF file if your browser does not show it below.
Update 20 May 2012

The river continues to fish its socks off with the best May anybody can remember.
There are some cracking beats available from now through the season. Wrack has rods now until July, Muiresk has rods from end of May, Forglen has June and August availability and Upper Netherdale has availability from June to July and a week in September as well as the last full week of the season at Ferry Cottage for 4 rods.
Avochie has some rods in June and a week in September where you could have Avochie House if required.
Please check out the availability page for the full list.
Update 16 May 2012

What a time to be fishing the Deveron. We have had a tremendous run of fish and many anglers are having a superb time-one even commented that it was better than Russia !!!!
There really are too many anglers catching fish to mention- and some are catching 2,3 and even 6 in a day with fish from 6-20lb. Many fish are 12-17lb and covered in sea-lice.
Where beats have anglers on- fish are being caught from Banff to Huntly.
Water levels have been a little erratic but for the most part between 6 and 9 inches- just perfect fly height for most. Only last Saturday saw a rise to nearly 3 feet but salmon were taken up stream and it brought more fish in with sea-liced fish caught up river on Monday. Brown Trout are also in great form and fish of 4 and 5 lb came off Avochie to the spinner in dirty water.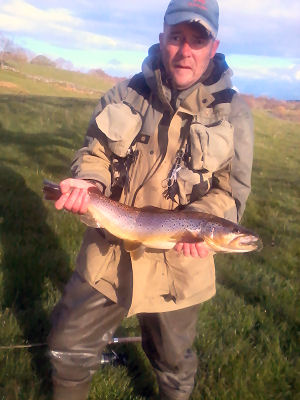 The Deveron Festival success continues with it winning the prestigious Thistle Award from Visit Scotland for Best Nature Experience in the Aberdeenshire and Tayside regional awards. We are now off to the National awards on 9 November.—a few short films of the ceremony can be found here http://www.youtube.com/user/turrifftackle.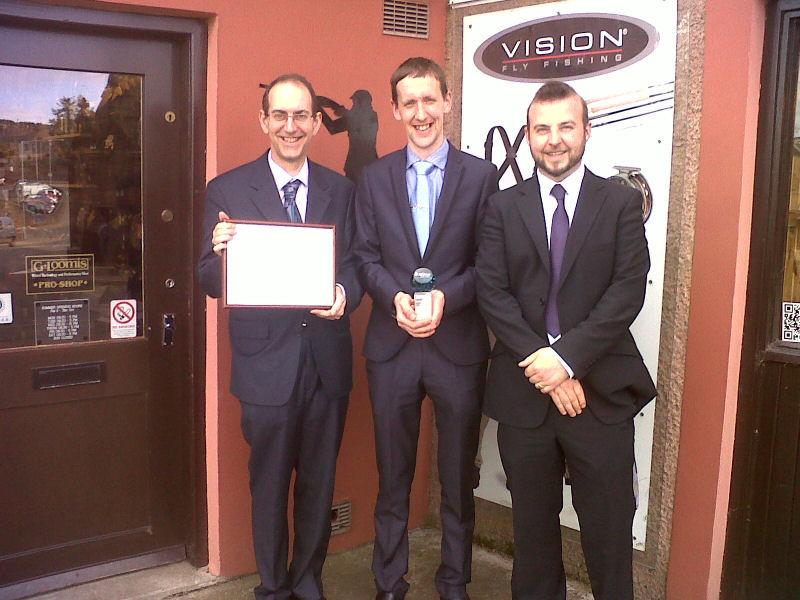 In the shop our latest Shotgun cartridge order has finally arrived- so now fully stocked and we have a deal on Savage 243 rifle with the new Weaver Kaspa Scope 3-12x50. This outfit is coming in with nearly 1/3 off the RRP. We have new Vision Running line in stock and after a Rio day with Simon Gawsworth we have the new Scandi short versi tip lines which revolutionised the switch rods I tried them on.
They are also available for single handed rods but you must scale the line rating back- ask for details. We are fully stocked with air guns and shotguns continue to sell well with prices starting at £620 for new guns with 3 year warranty. If you are interested in clay Pigeon shooting as part of your holiday or looking to put a day together please contact us as we now have several facilities where we can run such an event.
Update 7 May 2012

April 24 saw levels down slightly at 2 ft but rising to 3.5 feet by evening. Wed 25 saw levels down slightly but it was dirty and it rained all day. This resulted in Levels at 5.5 feet first thing Thursday and it peaked around 7-8ft.
Thankfully the rain stopped and levels dropped slowly.
By Sat they were at 4 ft but not too dirty.
Hungry Hills landed a 14lb salmon and Avochie an 8lb salmon and a sea-trout. Marnoch Lodge landed a 10lb salmon and another sea-liced at 18lb on the fly.

Sunday saw the opening of the 2012 Deveron Festival and around 500 people came along to the river and marquee to see tackle and other crafts as well as casting demos from Andy Murray G Loomis, Eoin Fairgrieve Trout and Salmon, Mark Roberts Hardy Greys, Scott Mackenzie and Jim Fearn Rio and Vision.

The river was perfect and all 120 anglers were salivating to get going on Monday.

Monday opened at 2 feet but it was raining hard. In truth the water started rising by 11am and it turned dirty. Most would have packed up but they stuck at it and boy did they get results.
Scatterty saw two fish at 12 and 17lb, Muiresk a 15lb sea-liced fish, Mountblairy a 6lb fish, Wrack 10lb, Aswanley 10lb and a 3lb sea-trout, whilst Marnoch Lodge had a 10lb fish and a sea-trout. All these were taken on the Fly.
Turriff and Hungry Hills also had fish at 14lb.
Tuesday saw the river at 3 ft and dirty. Not a great start and again most people would have not bothered to tackle up.
Avochie had an 8lb fish, Marnoch Lodge had two at 6lb and one at 8.5lb plus a sea-trout, Aswanley had another at 10lb, Wrack one at 17lb, Again all on fly and Dunlugas had two at 10lb.

Wednesday saw better conditions and again the river produced. Wrack had three fish at 15,16 and 17lb, Forglen one at 16lb and Marnoch Lodge had three at 16,10 and 14lb.

Over the three days the trout over 1lb to 3lb were numerous and indeed Paul Proctor and Alan Little had 50 on Tuesday between them and they only counted fish over 1lb- a fantastic result and shows the potential the river has in regard to trout fishing.

Some anglers stayed on to fish and Thursday saw more fish at Forglen and Marnoch Lodge. Levels are now just under a foot and running clear but we have been back to raw cold winds and snow showers since Friday, which has sent anglers back indoors. You can see some short films of the festival on our you tube channel http://www.youtube.com/user/turrifftackle and I will put some pictures up here when I catch my breath.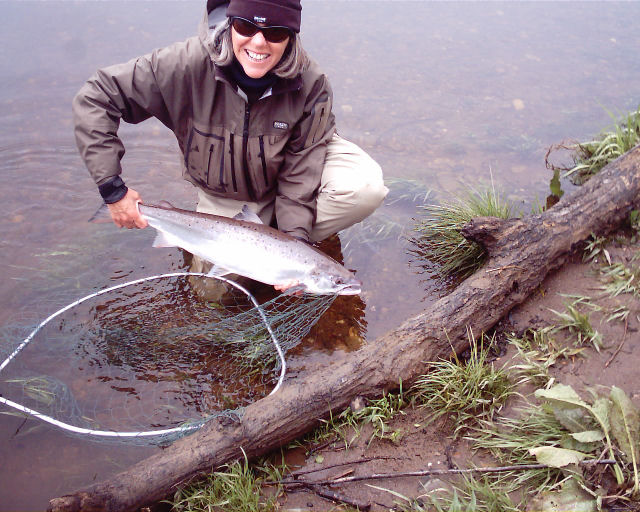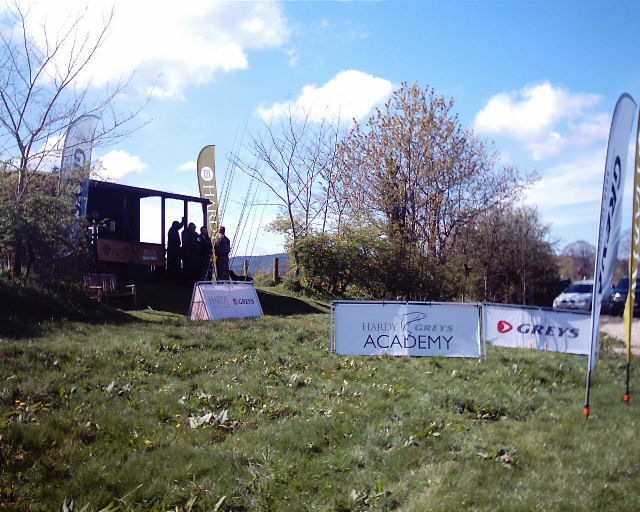 Update 23 April 2012

As we entered April the record breaking temperatures of 23 degrees disappeared and were replaced with SNOW!!. Exactly one week on the Tuesday of 23 degrees to the following Tuesday with 6 inches of snow lying. As this melted during the week and supplemented with showers we went from –8 inches to 4 feet above normal on April 6. The following week saw a few fish off upper reaches to 14lb and an 11 lb fish off Forglen. By April 16 we were at 10 inches above normal and we had our best week so far with with fish off a few upper beats to 15lb and Upper Netherdale and Forglen taking fish to 12lb. With reports of 6 sea-trout off Montcoffer the previous week this was followed up by several sea-trout to myself and my host on another lower beat. The river levels fluctuated with heavy showers and but by Friday we were at 2'6" and rising. Very heavy rain saw levels at nearly three feet of mud on Saturday morning and by 6pm it reached just over 5 feet. Today Monday April 23 sees it at 3 feet and very dirty with more rain forecast all week. Lets hope it slows a bit for the end of the week and the festival on Sunday and early next week, as we have fish and anglers all over the river so a decent height might see some fish caught.
Update 15 April 2012

Paul Proctor has the Deveron in his top five Brown Trout destinations in this Months Trout and Salmon Magazine. The trout fishing continues to be fantastic this year with many fish reported over 3lb.
Many are over a pound and above is one of four off the river on Thursday 12 April.
Update 31 March 2012
My last report a month ago saw levels at plus two inches. We now stand at best at 6 inches below summer level. The weather has been dry and for part exceptionally warm with temperatures breaking records at 23 degrees. This has kept angling pressure down but for those that ventured out there have been some salmon to catch. Montcoffer saw an 8lb fish on 2 March and from two middle beats on Saturday 3 March we saw an 8lb fish to J Anderson and a 16lb sea-liced fish to another lucky angler. 9 March saw another fish off above Marnoch and Forglen saw a 10lb fish to A Hutcheon on 13 March.

17 March saw N Smith land a 12lb fish heavily seal damaged and Monday 19 March saw I Sutherland land a 6lb fish at Dunlugas and D Wiseman take a 7lb sea-liced fish at the Wrack. This was followed by Mr Rennie on the Wrack on Tuesday at 8lb a 14 lb fish off the middle river and a 12lb sea-liced fish by B Campbell on Saturday 24 March.

The trout fishing has been superb with large hatches of March Browns and many trout of over 3lb coming off up and down the river to both dry and wet flies.
We are desperate for some substantial rain but there are some salmon entering the system so it is not a total lost cause.

There is plenty availability on day rods and some fantastic weeks for let during the season. Forglen has availability during June and July this year, Wrack has July and Ferry Cottage has Sept and Oct weeks for 4 rods with Accommodation fishing Upper Netherdale and Carnousie. There are more beats with availability so give me a call if you are looking for fishing this year. We also have access to some accommodation not connected with the fishings if you require somewhere to stay.
For the shop, rifle and shotgun sales continue to do well and we now have a selection of Vision Shooting Heads back in stock and access to a wider range if required. These lines were and still are amongst the best you can buy and were very popular before they became unavailable in the UK. Further details of the full vision range can be found here http://www.visionflyfishing.com/
Update 1 March 2012
Levels have stabilised just around the three inch mark- which has enabled us to see the pools after the winter. We have only experienced one large rise of 8 feet but it seems to have moved some gravel and it looks like for the better on most beats.
We are now up to five fish off the river with two more off last week all above Turriff inc one at Upper Netherdale to 10lb.

I have two weeks in October at Waterside Lodge and Ferry Cottage as well as July rods at Forglen and Muiresk. Montcoffer has a great deal on a cottage and 4 rods during the latter half of May – Where the rods are only £100 per week and they have some rods only, available in June and July. Please check the availability page for more dates and give me a call for more details.
Update 19 February 2012
Opening day saw the river running clear at about 10 inches above normal. The sun was shining and temperature was around 4 degrees first thing. It was a little wet underfoot with rain on the preceding Friday morning.

The opening day ceremony was held at Turriff Angling Association where a crowd of around 100 saw Mrs Jean Marshall presented with the Morison trophy for the heaviest fish caught on fly during 2011 at 29lb. She was also presented with G Loomis salmon rod for her efforts by D Burgess of G Loomis.
This she kindly donated back to the Trust to enable them to use it to raise funds and an 18 year old bottle of Chivas Regal from the days sponsor Chivas Brothers.
The Gathering was then piped down to the river by members of Turriff And District Pipe Band before local Westminster MP Dr Eilidh Whiteford blessed the river and Mrs Marshall then took the first cast of the new season. Pictures below.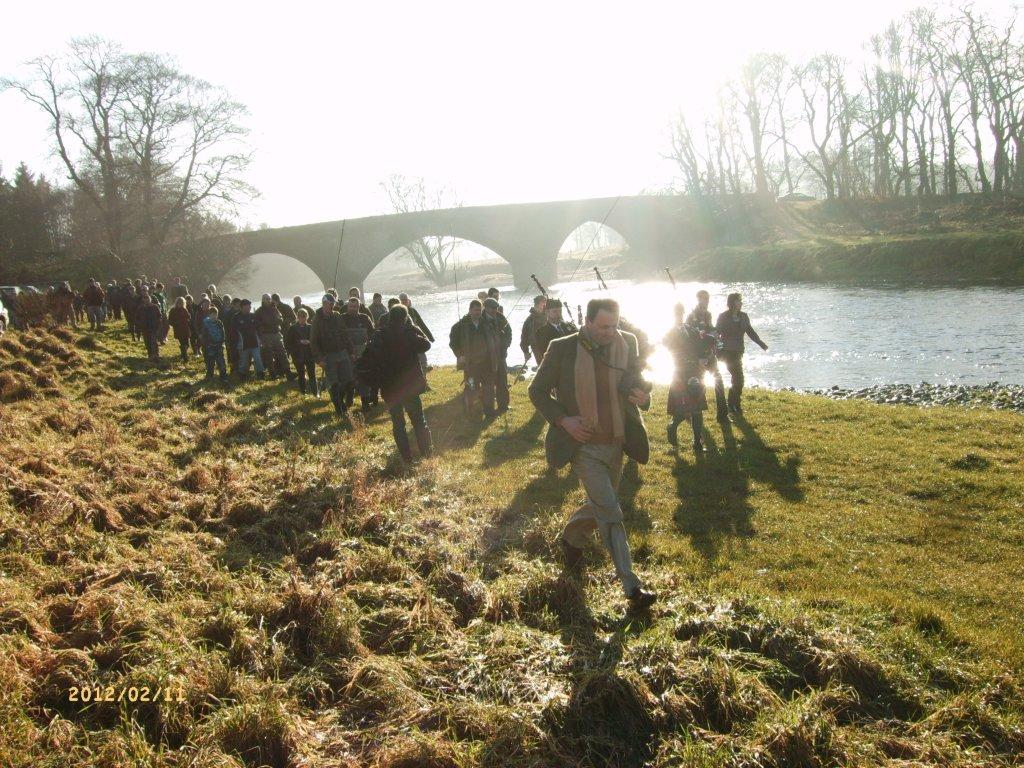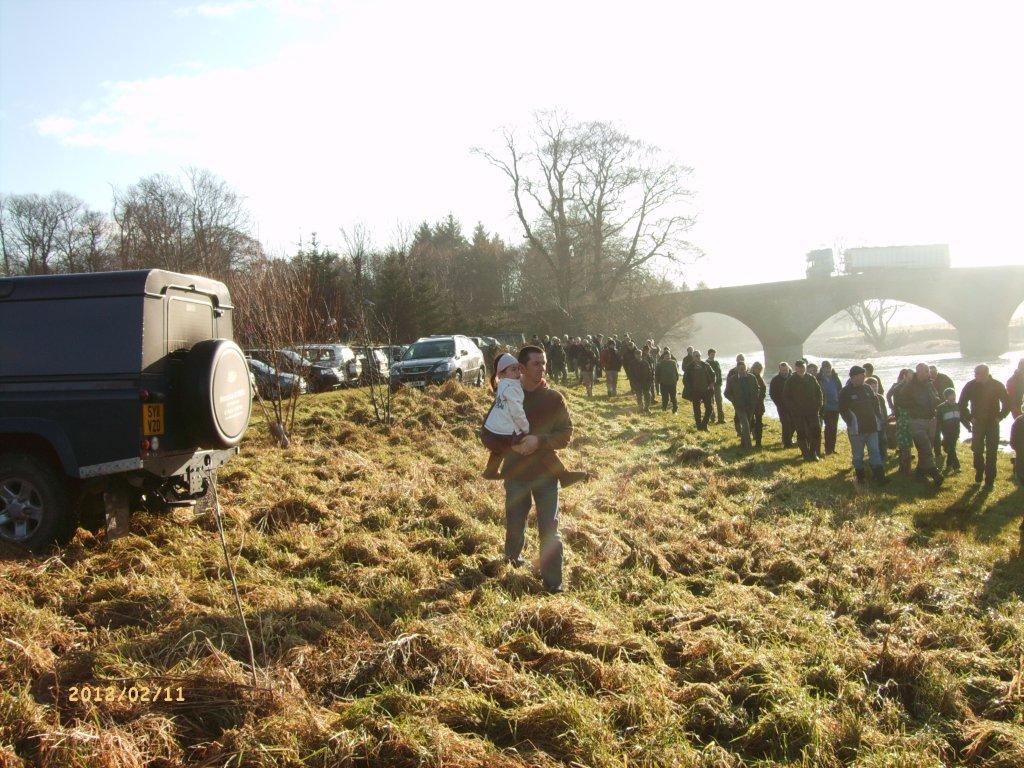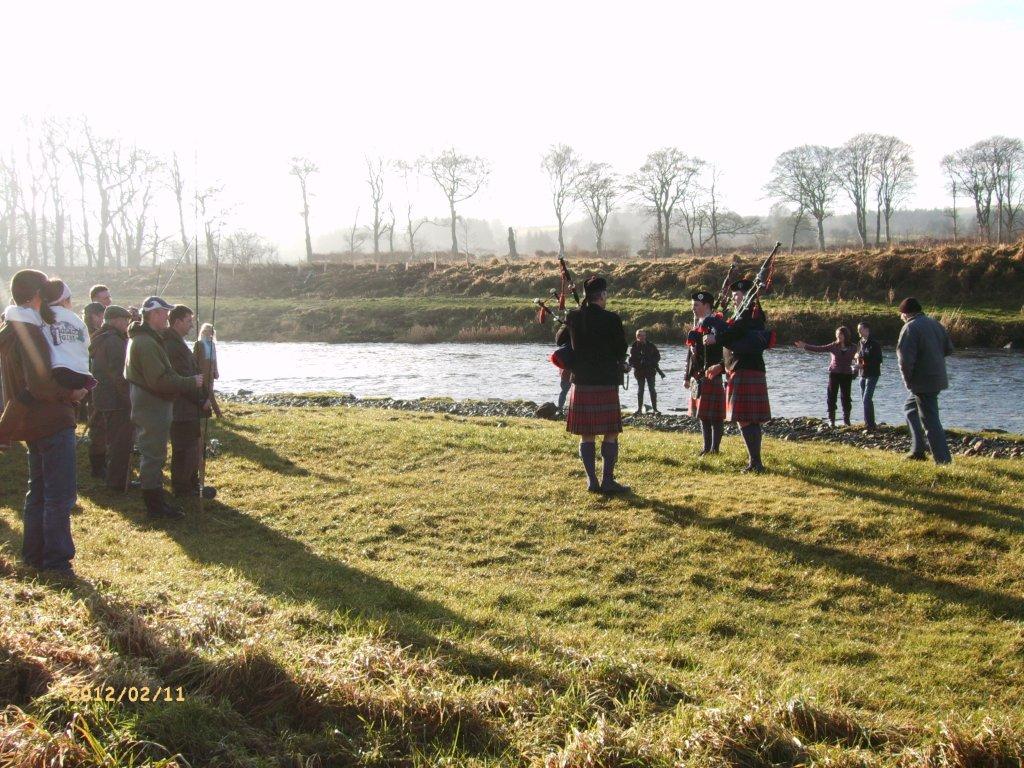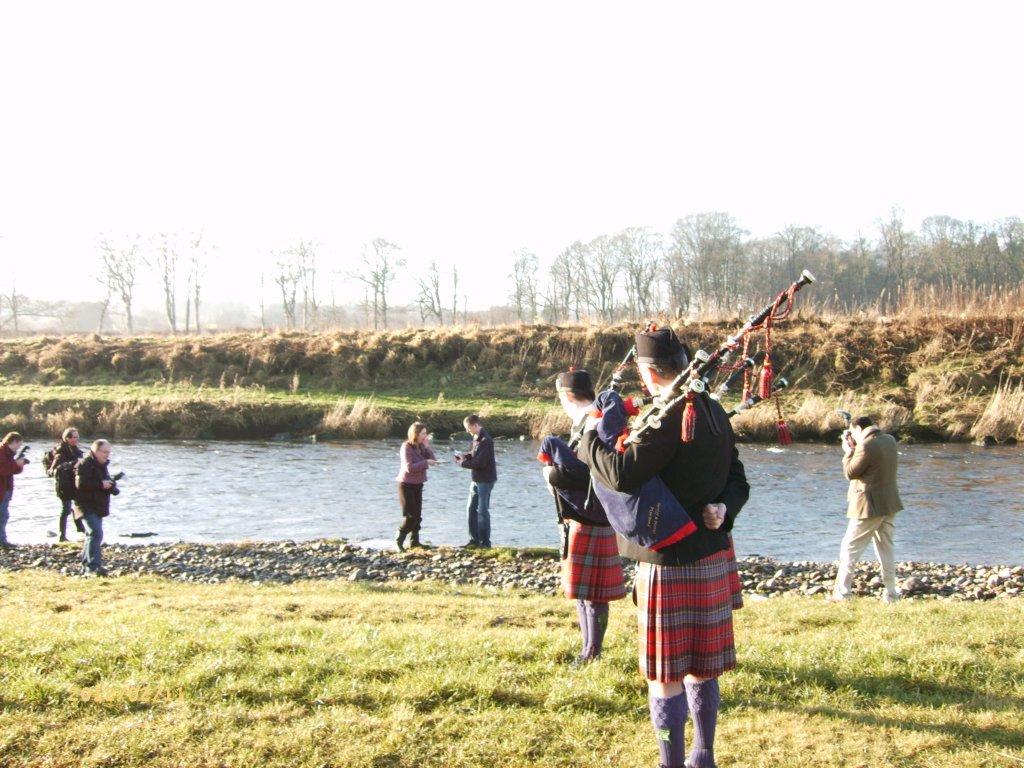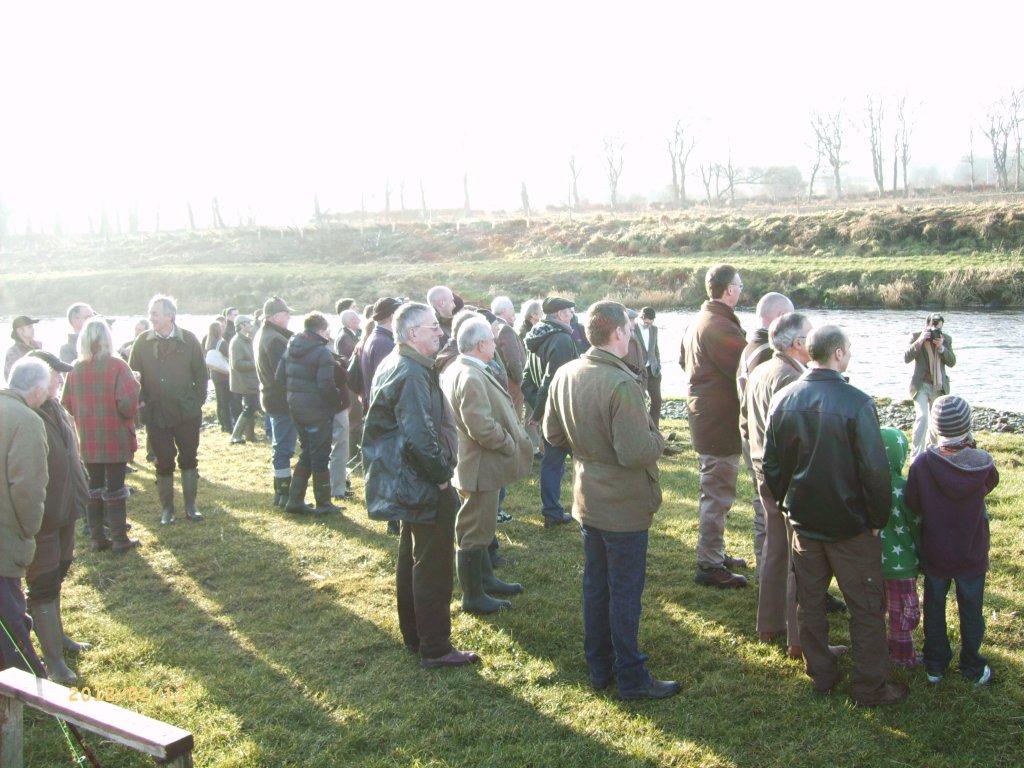 Despite more anglers out on the day being a Saturday no springers were reported. We had to wait until Tuesday before an 8lb sea-liced fish was caught by R Brown at Conniecleugh and this was followed by a 9lb fish off Forglen by R Ewen (pictured)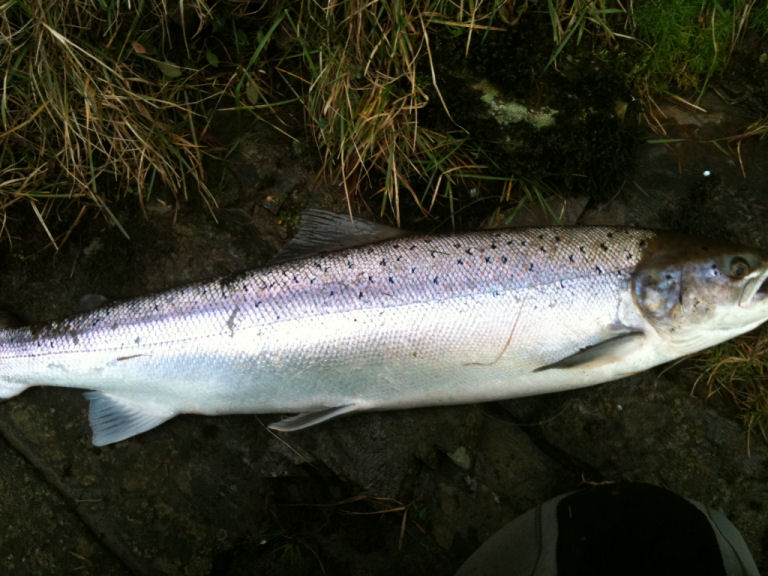 Chivas Brothers are to donate a bottle of 12 year old Chivas Regal to every angler who returns a spring fish up until the end of May. You now have the choice of either the whisky or the side of smoked salmon. There is not another reward scheme like this in the whole of Scotland.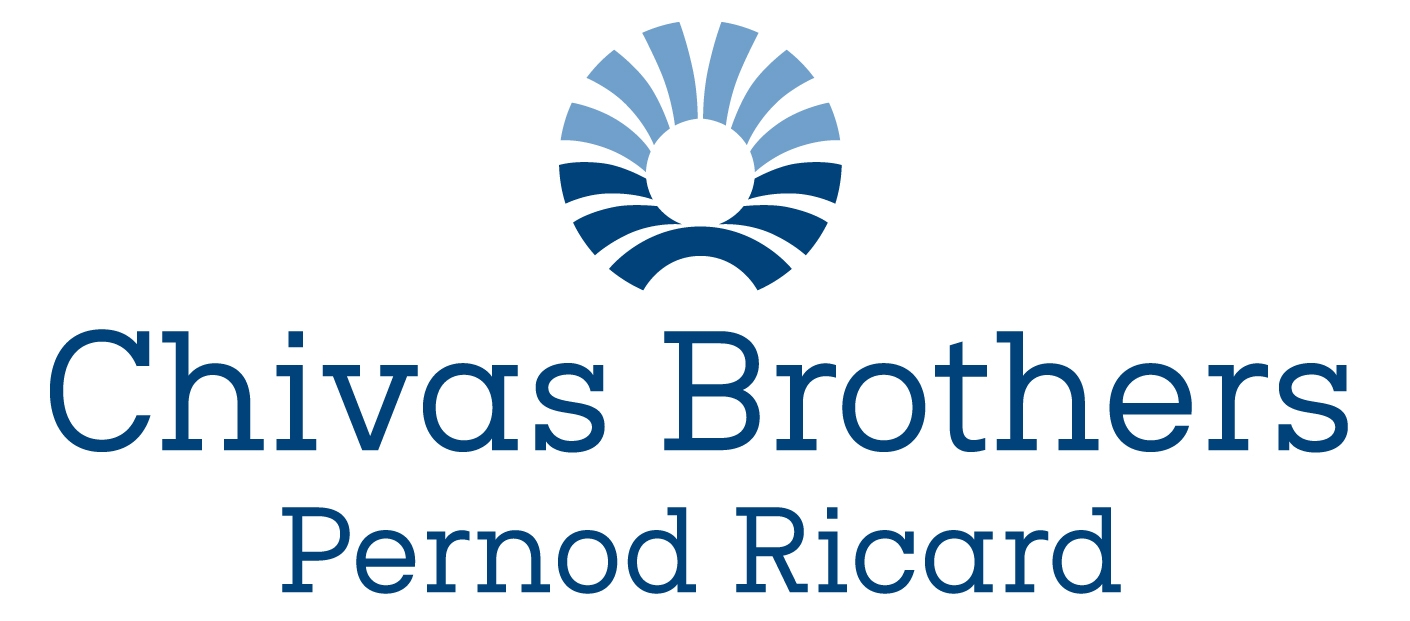 Update 07 February 2012
We are fast approaching opening day on Saturday 11 February 2012. We have not suffered the severe frosts seen on the Dee and today the river stands at one inch above normal- running clear and we have no ice problems. Weather is for more of the same with a little milder conditions for the weekend. There is plenty of availability on Saturday and the Turriff Angling Association water will be free of charge on Saturday.

The opening ceremony will be held at Turriff Angling Association by the Deveron Bridge just outside Turriff and once again the event will be sponsored by Chivas. Tea, coffee, hot sausage rolls and 12 year old Chivas Regal will all be supplied after the ceremony commencing at 10am. We usually see a fair turnout of over 100 people so we hope as many folk can attend this year to once again make the event a big success. Please turn up in good time to ensure you do not miss any of the festivities.
Update 05 February 2012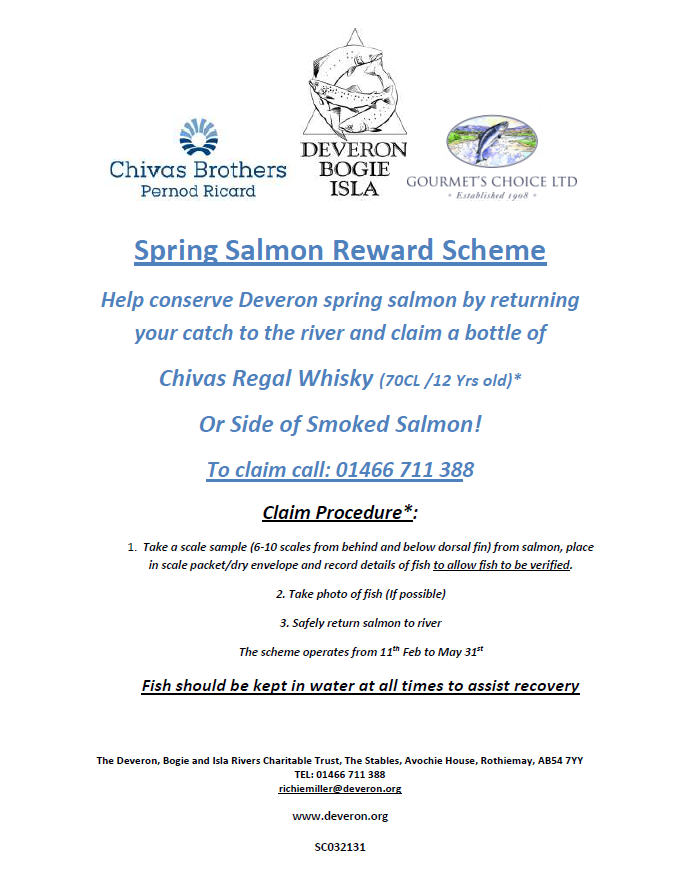 Update 23 January 2012
Not long to go now !! Plenty of rods still available for the opening day on Saturday 11 February. Do not forget the opening ceremony 10am at Turriff Angling Association. It is again sponsored by Chivas and there will be plenty drams on offer as well as hot food.

Also for those looking for fishing I have some great stuff at Forglen, Muiresk and Ferry Cottage for July onwards and Mountblairy has some for June and July . The river is not expensive when compared with others and four rods can come and fish with accommodation for less than £600 each for the week. Give me a call as not all availability is advertised on the availability page.
Update 1 January 2012
Happy New Year and welcome to the 2012 season.
We are all looking forward to another season- where hopefully the fish will be more co-operative than 2011.
2011 catch returns will ,we were informed at the Trust AGM be around half of 2010. This as we are all aware had nothing to do with lack of fish- indeed quite the contrary at the back end. The river was stuffed full of fish but they were just not interested. Many Owners and Gillies report numbers of fish spawning in the main stem to be amongst the highest they have ever seen. So far we have not had any damaging spates and we hope this will continue to allow a successful hatching in the spring.

Turning to the shop for a moment - you will be glad to here that the majority of products have seen no price increase for 2012 and indeed some product ranges are reduced significantly for 2012. Our new stock will begin arriving in February and that will include the new Fly Lines by Rio- which are sure to be a must have for 2012.

The opening Day ceremony - just gets better and bigger every year . This year the 11th February lands on a Saturday- so we are hoping for a big turn out.
The Morison Trophy for the heaviest Fly Caught Salmon will be presented for the first time to Mrs Marshall- fitting that the fair sex should win it first- when the heaviest ever fly caught salmon in the UK came off the Deveron and was caught by Mrs Tiny Morison.
The celebrations will kick off at Turriff Angling Association at 10am and all are invited. As usual drinks, beverages and hot sausage rolls will be provided free ,courtesy of Turriff Angling Association.

There will also be another fishing festival at the End of April and full details should be appearing in the February edition of the Trout And Salmon Magazine.

Availability of fishing is now appearing on the availability page and I have some more not shown yet so please ring if you are looking for something throughout the season. I also have access to some accommodation separate from any fishings so might be able to help if you need somewhere.

We continue to see demand for rifles and reasonably priced , new shotguns below £700 exceed supply and will continue to endeavour to hold stock where we can.
Ammunition supply is near back to normal and we have stock of most calibres. Please remember if it is shooting accessories you are after - come February 11th a lot of it will be packed away as we have limited room- but please ask- it may be in stock but out of sight. May I wish you all the best of luck with your shooting for the last few weeks and tight lines for the forth coming fishing season